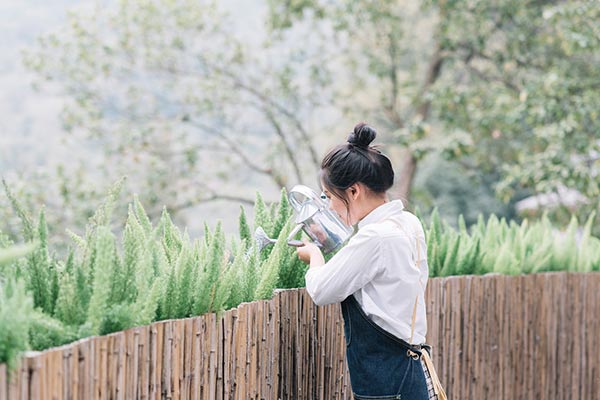 A waitress waters plants at Sunsite. [Photo by Liu Yujie/China Daily]
The origins of minsu
Zheng Wei, founder and CEO of Yousu, an online marketing company in Hangzhou that creates marketing and promotional material, such as videos and virtual reality experiences, for minsu businesses, said that the concept first came from Lijiang, Yunnan province.
"The idea of minsu was first introduced by Taiwan people to Lijiang in around 2010, when the local tourism industry reached a peak and investors were coming up with different concepts to stay in the competition," said Zheng, a former TV producer and a Hangzhou native.
Though the concept was a hit in Yunnan, it wasn't till 2014 that it arrived in Hangzhou. Zheng said that minsu are so wildly popular today that they might even be considered a threat to the big players in the industry.
Having identified the potential of this new hospitality concept and how many minsu owners require marketing for their brands, Zheng set up Yousu at the beginning of this year to tap into the burgeoning industry.
He estimated that there are about 5,000 minsu houses in Zhejiang, one-third of which are in the "larger Hangzhou area", including places like Tonglu and Yuhang. Rooms in these areas cost between 600 yuan and 2,000 yuan per night and rates are increasing at an annual rate of 20 percent.
With regard to the differences between minsu and regular guesthouses, Zheng said that there is no discernable difference, except for the fact that the latter is a more "vogue" version that is usually managed by a charismatic laobanniang, or female boss.
A recent online survey showed that a charming laobanniang is as important an element to the success of a minsu as decor and location.
"A minsu is all about style, both for the owners and its guests. It violates all the golden rules in the hospitality industry, which calls for factors like services and locations," Zheng said.