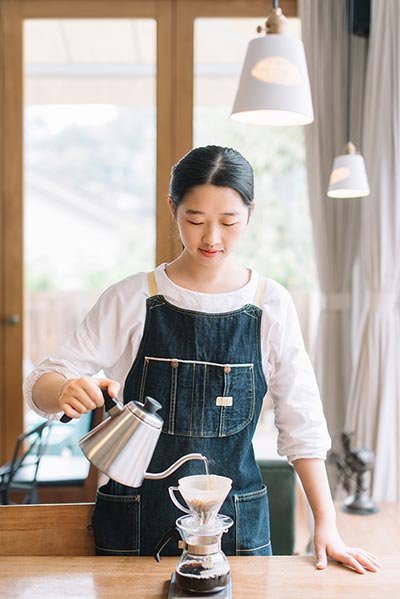 A waitress serves coffee at Sunsite. [Photo by Liu Yujie/China Daily]
A rural room upgrade
Chinese tourists are looking for room upgrades while they are away from home, but unlike travelers from more stagnant economies, they are ready to pay big, even when their "home away from home" is in the middle of nowhere.
Statistics from the first China International Minsu Development Forum held in Zhejiang at the end of May showed that in 2015, the market size of such accommodations exceeded 20 billion yuan.
The market is divided into two sub-categories-minsu located in urban areas for sightseers and those tucked away in rural regions. According to a report from the forum, the largest of its kind in China, the latter category appears to hold more promise.
Statistics show that the domestic rural tourism industry now receives about 180 million visitors every year and this figure is projected to hit 200 million by 2020.
However, the infrastructure in these areas pale in comparison to what is available in the urban zones, a concern that needs to be addressed in the rural tourism sector.
"The notion that rural tourism should be backward and below par has been starting to change. In fact, people who are planning a weekend getaway to the countryside could actually be demanding more from a place since that's where they will be spending most of their time," said Feng Guoxian, deputy secretary general of the West Lake Minsu House Association.
Xu Jianjun, founder of kaistart.com, a Chinese crowdfunding platform, said this trend is a result of the upgrade in domestic consumption that has been advocated by the central government which sees it as an important engine for economic growth.
Xu's platform currently hosts 35 minsu projects that are nearing the end of their funding drives. Most of these projects are based in Zhejiang province and each has raised an average of 2.5 million yuan.