Go to town for the beat spas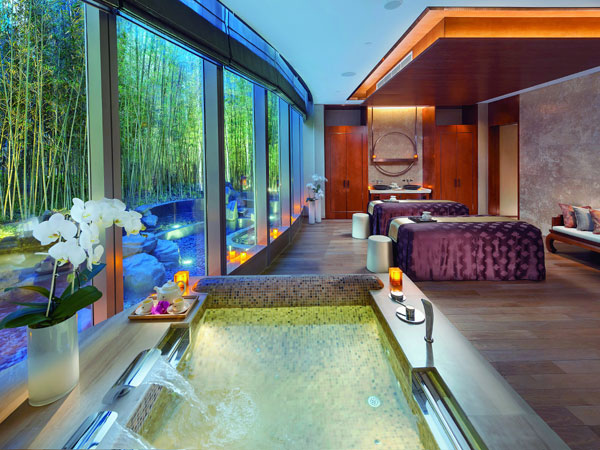 Soaking in a tub of rose petals is just part of the fun at the Mandarin Oriental Pudong.[Photo provided to Shanghai Star]
It's summer, when the body is stressed by heat and humidity and the demands of work. If you cannot find time to travel to all those relaxing island resorts, Xu Junqian suggests you look closer to home for some pampering.
Let's face it, some of us aren't going to make it to Thailand or Bali this summer, let alone the Maldives, or even Shanghai's traditional summer hill retreat Moganshan. If family or work commitments keep you land-bound, one way to ease the pain is by taking a dip in some of the best spas around town to cool down and keep your spirits up this summer. It won't ease your wanderlust, but it's far better for your bank balance and guilty conscience.
Touch Spa
The 90-minute treatment at Le Royal Meridien's Touch Spa works more like a biology lesson, making you aware of all the muscles you may have been exhausting over the years but never really knew about.
The English translation of the treatment reads as "unclogging your 14 meridians." Based on the theories of Traditional Chinese Medicine (TCM), the masseuse can precisely locate the most overworked meridians, or in more familiar terms, muscles, including those on the inner side of the thighs, and ease the stress by rubbing them with essential oils.
This signature treatment can also give your immune system a boost. According to the principles of TCM, the meridians are the bridges for transporting blood and "qi" (energy) to the organs. Regularly unclogging them means "there will be less of a traffic jam in your body," the masseuse explains.
Although the spa group has been the biggest partner for international chain hotels in China like the Sheraton and Westin, it doesn't charge an extra service fee. The "unclogging" treatment costs 900 yuan but promotions and discounts are often available.
Address: 10F, Le Royal Meridien Shanghai, 789 Nanjing Road E, Huangpu district (南京东路789号世茂皇家艾美酒店10楼)
Phone: 021-3318-9999 Ext 7900
Softening the pain with special deals
A spa treatment can cost you a pretty penny, but here are some good eals we found for you.