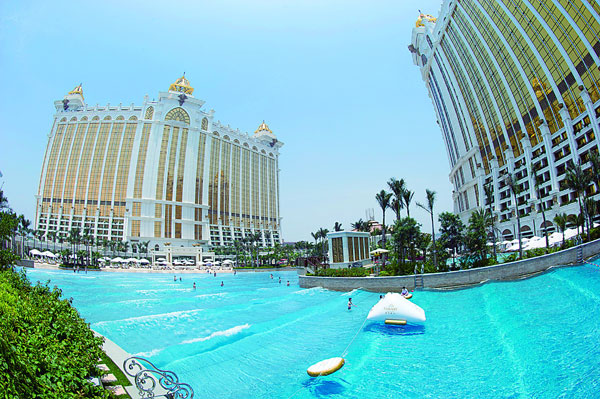 The Grand Resort Deck at the Galaxy Macau.[Photo provided to Shanghai Star]
There is no shortage of summer attractions and activities in Macao ranging from poolside cabanas to short-wave surfing and a black beach that leaves no trace of footprints. Xu Xiaomin ponders where to go.
When looking for where to go in the summer I turn immediately
to water-related destinations with access to beach, lake or river — or even just a hotel with a good pool. Macao has many options for those looking to cool down during these humid days and balmy tropical nights. Shanghai Star explores some of the best and newest.
Hac Sa Beach
Macao's largest natural beach is located in Coloane and framed against a shoreline thick with pine trees. True to its name, it has jet-black sand. People come here to swim, boat and hike.
The sand, which shimmers like tinsel when wet, gets its shine from all the glauconitic quartz washed up here by ocean currents. Sadly, it is disappearing gradually due to environmental changes. The local government is trucking in yellow sand as a replacement, which implies that its days as a black sand beach may be numbered.
There isn't a wealth of water sports available, but the beach attracts people with its fresh air, lush greenery and peaceful environment. In the summer months, it is popular with campers. If you want a good night's rest, imagine being lulled to sleep by the sound of breakers while gazing up at the starry heavens.