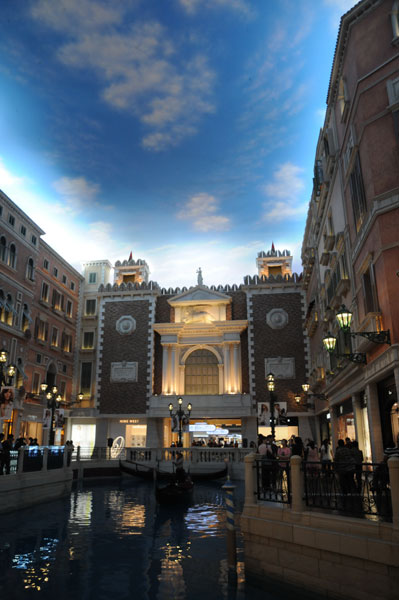 The Venetian Macao at Cotai Strip Resorts Macao is an integrated resort that makes guests feel as if they are in Venice. [Photo by Xu Lin/China Daily]
Macao attracts many tourists who are drawn to its developed hospitality industry, fresh seafood and ancient European-style architecture.
Portuguese first settled in Macao in the 1550s. It became a Portuguese colony in 1887 until sovereignty was transferred back to China in 1999.
One of the must-go places is Sands Macao, which recently celebrated its 10th anniversary. It's Macao's first leisure and entertainment complex by an international operator, setting the benchmark for Macao's development.
"We're not only celebrating that it's been 10 years since we opened our first property in Macao, but also the growth of Macao into a world center of tourism and leisure," says Edward Tracy, president and CEO of Sands China Ltd.
Sands Macao has a stunning glass exterior featuring seven specialty restaurants and lounges offering various cuisines such as beef steak and Cantonese dishes. You can also watch live entertainment in the 650-seated Sands Theater.
The Cotai Strip Resorts Macao is the other entertainment complex by Sands China Ltd. It allows you to choose from different hotels, including the Sheraton and Holiday Inn, and enjoy good proximity to various entertainment, retail stores and restaurants. There are occasionally concerts, performances and boxing matches in the complex.
Diehard cartoon fans must not miss DreamWorks. You can meet costumed characters from DreamWorks Animation classics, such as Shrek, Madagascar, and Kung Fu Panda.
In the Shrekfast with the DreamWorks Gang, the characters pose for photos with you after performances. The DreamWorks-themed food is delicious and is inspired by the company's animations, such as panda-shaped steamed buns and Fiona's cherry grumble.