Feasting season kicks off for delicious hairy crabs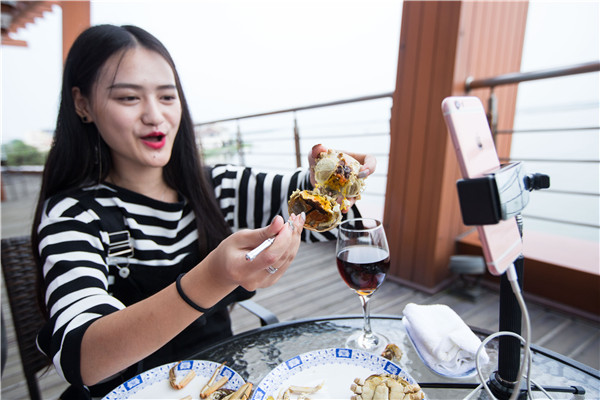 A social media anchorwoman broadcasts live her first taste of the crabs on the side of Yangcheng Lake on Friday. XU KANGPING/CHINA DAILY
The crabs, well known for their green-blue top shell, snow-white bellies, and golden hair on their legs and pincers, are loved by many when autumn comes.
Locals prefer to eat the crabs without dipping sauce, which is generally made of vinegar and ginger, to enjoy the freshness and delicate flavor of the specialty.
With the boom of e-commerce and delivery services, nearly 70 percent of the hairy crabs are now sold on the internet. A large proportion is exported to East and Southeast Asia, including Japan and Hong Kong.
On Jingdong, a popular e-commerce platform in China, eight crabs, about 0.25 kilograms each, are sold for 1,388 yuan ($208). At food markets, a crab about 0.1 to 0.15 kilograms is sold for around 30 yuan.
"The big crabs are too expensive right now," said Feng Bing, a Suzhou high school teacher. "I'll start with some small ones and buy the big ones when the prices fall."
Hang Xuefei contributed to this story.