Feasting season kicks off for delicious hairy crabs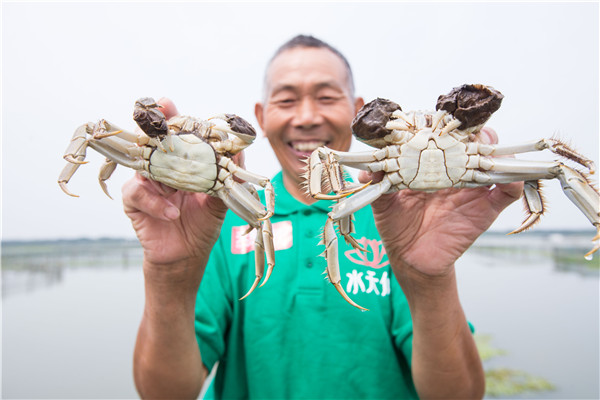 A farmer holds newly harvested crabs at Yangcheng Lake in Suzhou, Jiangsu province, on Friday. Yangcheng Lake hairy crabs, one of China's best bites of autumn, officially hit the market on Friday. The lake is expected to produce about 2,000 metric tons of hairy crabs this year. The price of big crabs will rise by 40 percent because of decreasing output. XU KANGPING/CHINA DAILY
Yangcheng Lake hairy crabs, one of China's autumn delicacies, officially hit the market on Friday following the opening ceremony of the crab harvest in Suzhou, Jiangsu province.
According to Yan Jinhu, secretary-general of the Yangcheng Lake Crab Industry Association, the lake will produce about 2,000 metric tons of hairy crabs this year. The price of big crabs will increase by 40 percent while the output has been reduced by 100 tons.
"The waters used to farm crabs have been reduced by the local government's environmental protection actions," Yan said.
According to the association, the area of water to farm crabs will be cut in half, from 2,130 hectares to 1,065 hectares by the end of this year. It predicts that the price of Yangcheng Lake hairy crabs will increase further in 2017.
Though China harvests around 800,000 tons of hairy crabs each year, the catch from Yangcheng Lake is considered the best due to good water quality.