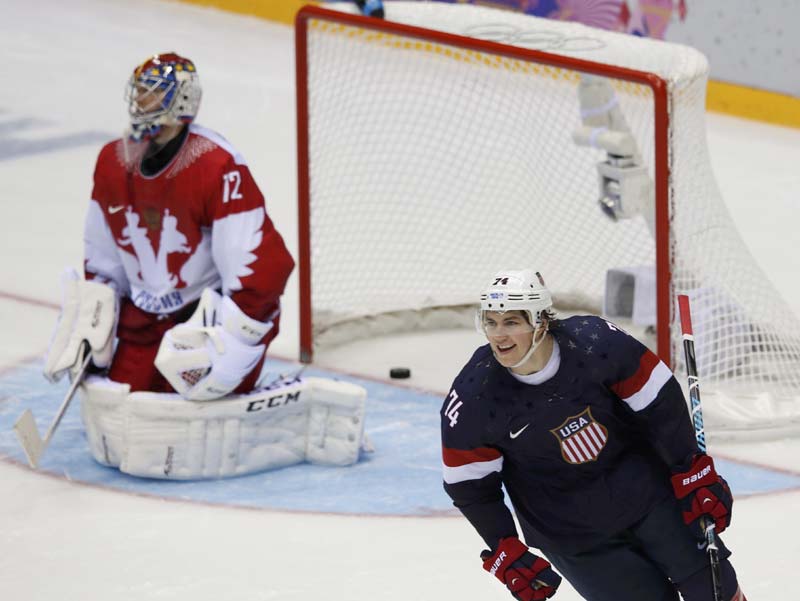 Team USA's T.J. Oshie (R) reacts after scoring the game-winning shootout goal against Russia's goalie Sergei Bobrovski during their men's preliminary round ice hockey game at the 2014 Sochi Winter Olympics, Feb 15, 2014. [Photo/Agencies]
SOCHI  -- The United States subdued Russia in an electrifying 3-2 penalty shoot-out win in the Olympic ice hockey tournament on Saturday.
Watched by President Vladimir Putin and International Olympic Committee President Thomas Bach, T.J. Oshie scored the shootout winner in a match reminiscent of the "Miracle on Ice" when a US side beat the Soviet Union in the 1980 Olympic final.
Russian captain Pavel Datsyuk scored twice in the 30th and 53rd minutes while Cam Fowler and Joe Pavelski scored for US at the 37th and 50th minute respectively.
"My hands are a little tingling, my feet are tingling. It was pretty nerve-racking out there," Oshie said after the game.
"I think you are going to see T.J. Oshie become a household name after that display he put on," said US forward David Backes.
Losing at home to the arch rival was disappointing.
"Obviously I'm very disappointed," said Russia goalie Sergei Bobrovski. "It was a shootout, we wanted more. It's heartbreaking."