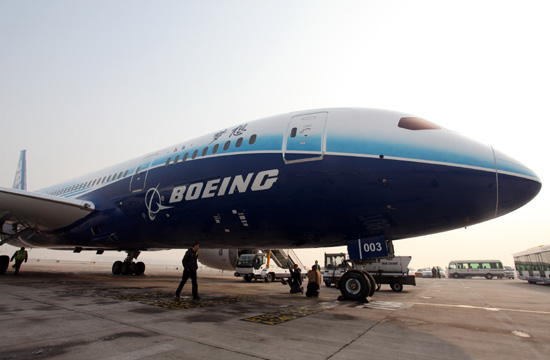 A Boeing 787 Dreamliner at Beijing Capital International Airport. [File Photo/Xinhua] 
China will pass the United States to become the largest market for Boeing Co before the end of this decade, a senior executive of the US airplane manufacturer said on Friday.
Boeing delivered 143 aircraft to China in 2013, a 60-percent year-on-year rise, and the number will keep growing in 2014, said Ihssane Mounior, Boeing's senior vice-president of sales and marketing in Northeast Asia.
This year's deliveries will include the 747-8 and 777-300ER models, he said.
The aircraft manufacturer also expects new 787 orders from the China market this year, he added, as it is negotiating with some Chinese airlines.
Availability is the main obstacle for Chinese carriers wanting to order Boeing 787 Dreamliners, Mounir said, as they will need to wait until 2019 at earliest to take delivery, if they order now.
Contact the writer at wangwen@chinadaily.com