Pregame blasts rock German soccer team bus, player injured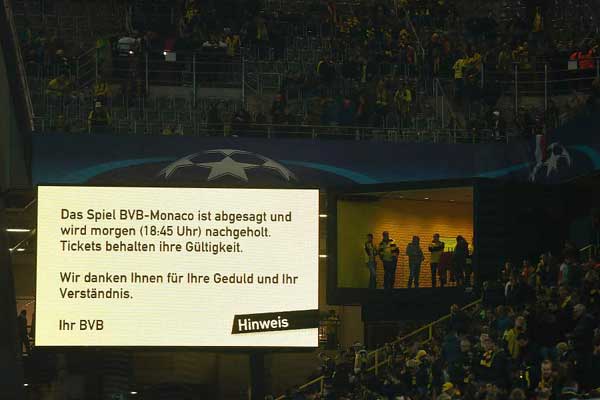 The information board announces that the match has being postponed and will be played the following day at 18:45 after the team bus of Borussia Dortmund had some windows broken by an explosion some 10km away from the stadium prior to the UEFA Champions League 1st leg quarter-final football match BVB Borussia Dortmund v Monaco in Dortmund, western Germany on April 11, 2017. [Photo/VCG]
The president of European soccer governing body UEFA, Aleksander Ceferin, said he was "deeply disturbed by the explosions" and that the teams had made the correct call by postponing their match.
"The thoughts of every one of us at FIFA are with the people of Dortmund, and the fans of both Borussia Dortmund and Monaco following today's troubling events," said world governing body FIFA's president, Gianni Infantino. He wished Bartra a "speedy recovery" and condemned the explosions.
Germany has seen matches postponed over security concerns before.
In November 2015, Germany's international soccer friendly against the Netherlands in Hannover was canceled just before kickoff because police feared an explosive device might be detonated at the stadium.
It came days after devices were detonated outside the Stade de France in Paris as France was playing Germany as part of a coordinated attack on the French capital.
AP
Most Popular
Highlights
What's Hot