Dybala nets 2 as Juve beats Barcelona 3-0 in Champs League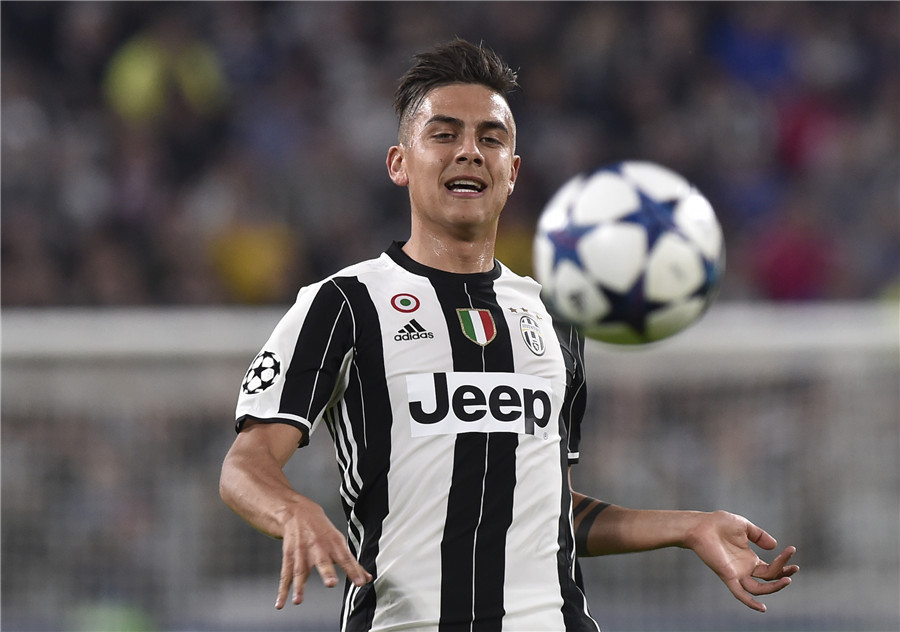 Juventus' Paulo Dybala in action during the UEFA Champions League Quarter Final First Leg between Juventus and FC Barcelona on April 11, 2017. [Photo/Agencies]
TURIN — Paulo Dybala said last week he doesn't want to be known as the new Lionel Messi. On Tuesday, the Argentine proved he can be just as good as his more famous compatriot, scoring two goals as Juventus beat Barcelona 3-0 in the first leg of their Champions League quarterfinal.
Dybala, who was given a standing ovation when he was substituted nine minutes from time, broke the deadlock in the seventh minute and doubled his tally in the 22nd. Giorgio Chiellini added the third, 10 minutes after the break.
"I'm really happy because since I was a kid I wanted to experience these moments," the 23-year-old Dybala said. "It's one of my best nights, but we mustn't ruin it next Wednesday."The result will give Juventus plenty of confidence heading into the second leg on April 19, but it will be wary of another fantastic comeback from Messi's Barcelona, which beat Paris Saint-Germain 6-1 in its last match to become the first team to overturn a 4-0 first-leg loss in the history of the competition.
"The sensation is that we are living through another nightmare," Barcelona coach Luis Enrique said. "We gave away two goals in the first half and against a team like Juventus you pay for it. As a coach it's very difficult to explain, Juventus was superior to us in every way. I'm responsible 101 percent ... (and) I don't want to talk about a comeback."But he added: "Certainly, if we get back to our level we can score four goals against anyone."The other first-leg match between Borussia Dortmund and Monaco was called off and rescheduled for Wednesday after three explosions went off near the German team's bus as it set off for the match, injuring defender Marc Bartra.
Juventus coach Massimiliano Allegri again used his daring 4-2-3-1 formation, which has seen his team play some of its best soccer of the season as it utilizes all five of its star attackers.
"We need to be happy with all we have done, but we need to keep our feet on the ground because we still haven't achieved anything," Allegri said. "It's not over, we'll need to play with bravery again ... but we know the weaknesses of Barcelona and also our strengths."Juventus was aggressive from the start and almost scored in the third minute when Gonzalo Higuain's header from a free kick taken by Miralem Pjanic was dropped by Marc-Andre ter Stegen, but the Barcelona goalkeeper recovered in time.
However, the hosts did take the lead four minutes later when Juan Cuadrado pulled a cross back from the right flank for Dybala to curl the ball into the bottom left corner.