Champions League quarterfinalists set as Monaco, Atletico move forward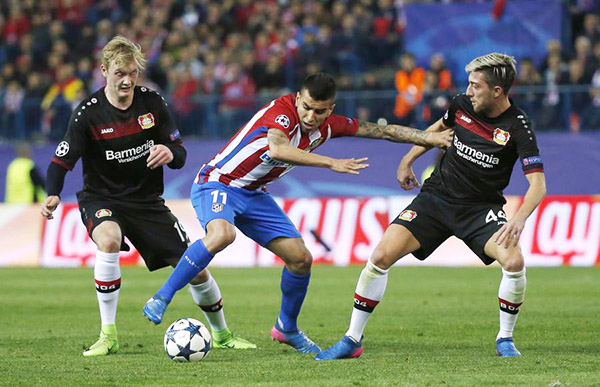 Atletico Madrid's Angel Correa in action with Bayer Leverkusen's Julian Brandt and Kevin Kampl during the Champions League Round of 16 Second Leg match at the Vicente Calderon Stadium in Madrid in Spain on March 15, 2017. [Photo/Agencies]
PARIS - Monaco and Atletico Madrid became the latest UEFA Champions League quarterfinalists after eliminating their respective opponents, Manchester City and Bayer Leverkusen, in the return leg of the last 16 on Wednesday.
Owning a 5-3 advantage in hand, Manchester City did not play conservatively in an attack-oriented matchup against Monaco, who had tallied 123 goals coming into the match.
Man City manager Pep Guardiola hailed Monaco as "the best team in the world at scoring goals," while emphasizing that his side would not only think about protecting the 5-3 lead through defense, saying that offense would be the best form of defense.
However, after the beginning whistle, Man City players found it fairly difficult to put the ball in their control.
Monaco's top scorer Radamel Falcao, who scored twice in the Etihad Stadium three weeks ago, was sidelined due to a hip injury. However, a younger Monaco squad still managed to put serious pressure on Man City's defense from the first minute, and converted their upper hand into a lead just eight minutes into the game, as the 18-year-old sensation Kylian Mbappe nailed his 11th goal in as many appearances from close range after Bernardo Silva crossed the ball from the left wing.
The hosts repeated their attacking approach in the 29th minute, as Brazilian midfielder Fabinho put left back Benjamin Mendy's stitching cross into the net.
Man City, who had no shot attempt in the first half, were on the brink of elimination with no away goal after Fabinho successfully brought it to an aggregate of 5-5, compared to their Monaco counterparts' tally of three.
After their striker Sergio Aguero missed two good chances, Man City once saw the light at the end of the tunnel with Leroy Sane's 71st-minute goal, but this was denied just six minutes later, as Tiemoue Bakayoko headed Thomas Lemar's free kick into the net.
The two sides tied at 6-6 on aggregate, but Monaco made it into the last eight on away goals, the second time this has happened in the past three seasons.
In Madrid, Atletico restored their 4-2 lead after the first leg with a goalless draw with Bayer Leverkusen, helped by goalkeeper Jan Oblak's series of great saves.
Atletico join Real Madrid and Barcelona, two La Liga giants, in the quarterfinals. The remaining four spots went to Bayern Munich, Dortmund, Juventus and Leicester.
The draw for Champions League quarterfinals will be held in Nyon's UEFA headquarters on Friday.
Most Popular
Highlights
What's Hot