CSL week two: Five things we learned
Guizhou Zhicheng may defy expectations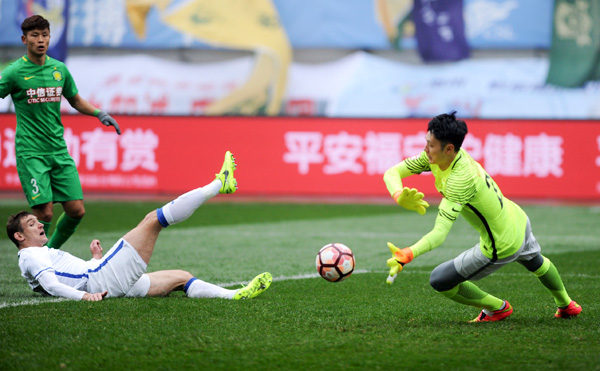 Guizhou Zhicheng vs Beijing Guoan
Tipped as one of the sides set to struggle this season, the recently promoted team from Southwest China has kicked off with commendable back-to-back 1-1 draws, against Liaoning Whowin and Beijing Guoan respectively.
While the Guiyang-based team hasn't drawn attention to itself with glitzy transfer splurges, dealings have been astute; Ryan McGowan and Nikica Jelavic are international pedigree professionals with Chinese Super League (CSL) experience, Min Junlin has arrived as the side's U23 player from Guangzhou R&F and looks solid in holding midfield, and Tjaronn Chery will provide creativity, precise dead ball deliveries, and tireless hard work.
Admittedly, at times, Guizhou looked slack defensively and struggled to cope with Beijing. This is understandable given how assuredly the side from the capital performed against Guangzhou Evergrande Taobao in week one. However, Guizhou's organization from set pieces combined with the knowhow of head coach Li Bing, who has considerable sideline experience at Guangzhou R&F and was voted the best coach in China League One in 2016, is a strong base to build off.
Shandong Luneng's promise and the conspiracy of Scolari's imagination
The team from East China may have coyly tiptoed around the relegation trapdoor in 2016, but Felix Magath's side has seized maximum points from its opening two games including a spirited 2-1 comeback win against reigning champions Guangzhou Evergrande.
Shandong should certainly be thankful for goalkeeper Wang Dalei, who made a strong claim for a national team spot with a number of smart saves. The side joins steamrolling Shanghai SIPG and surprise package R&F Guangzhou as the only sides with 100% records left in the division. In spite of an often disjointed performance by the home side, Magath knows how to organize a team and he certainly maximized Shandong's physicality with Graziano Pellè proving a perpetual handful.
Instead of praising Shandong or properly acknowledging his side's repeated inability to defend both set pieces and aerial deliveries in general, Scolari successfully sidetracked the media by laying out his blueprint of a refereeing conspiracy against Guangzhou. The basis of said seedy collusion? Zheng Zhi's two-match ban for a red card in week one against Beijing Guoan- essentially a complaint about having no adequate backup for a 36 year old, admittedly brilliant, central midfielder. Considering the team from Guangdong province has won six consecutive championships, the Brazilian's refereeing 'conspiracy' is of unrivalled incompetency because if true would certainly see the backing of most CSL fans.
Jiangsu Suning is overly reliant on its South American forwards
Jiangsu's rapid ascent to a second place finish in last year's CSL surprised many and has set a challenging precedent for the Nanjing outfit. Although undoubtedly too early to make even the flimsiest of predictions, the team has only mustered two credible goal scoring chances in as many games and in the absence of Roger Martinez (injury) and Alex Teixeira (suspension) looks of short pace and creative nous.
Friday night's game at home to Tianjin TEDA was a golden opportunity for attacking outlets Ji Xiang and Wang Song to demonstrate their ability to trouble a mediocre defense. Ji squandered the best chance of the game and Wang's removal at half time reflected a performance that lacked the invention for which he was signed at the end of the winter transfer window. Consistency against weaker CSL opposition was the backbone of Jiangsu's success last year and Choi Yong-soo will surely be praying to have Martinez fighting fit for the away trip to Liaoning at the start of April.
International broadcasting will catalyze CSL to change
The punishment of rotting in the reserves for four years and losing a year's wages may seem incongruous with a solitary bout of in-game violence, but it is precisely the threat leveled at Qin Sheng by his club Shanghai Shenhua. While the midfielder's stamp on Tianjin Quanjian's Axel Witsel was an ugly mark on a game supposedly representing some of CSL's finer talent, the true reason for Shanghai's hysterical reaction was the presence of television cameras beaming the game all around the world.
The mere fact that CSL games are being screened by the likes of Sky Sports and Fox Sports represents dramatic and exciting progress. However, the added attention will plainly highlight some of CSL's deficiencies. Used positively, the pressure of a growing international audience, one which arrives in front of the television with a high set of footballing standards, could help to remedy perpetual issues such as substandard refereeing and player misconduct.
A notable example would be that of goal line technology (the lack of which Beijing Guoan suffered at the weekend). Increased global visibility of CSL paired with a desire to present the league as modern and rapidly progressing could see the implementation of video technology occur sooner than many fans might expect.
Should the CSL be expanded?
It seems somewhat counterintuitive, only a week into the season, to begin discussing the parameters of the CSL but that was what Zhang Jindong, founder of Suning Commerce Group, posed in the run-up to the weekend's fixtures.
With Chinese youth football in the national spotlight, the owner of Jiangsu Suning believes teams should be added incrementally across CSL (from 16 teams to 18 or 20), China League One (from 16 teams to 20 or 22), and China League Two (from 24 to 40, whoa).
Running parallel to the fashion of Chinese corporate investment in the CSL are the brash pronouncements of Zhang-like figures (think Wang Jianlin's Wanda China Cup). While the business acumen of Zhang, Wang, or Guangzhou Evergrande's Xu Jiayin is not in doubt, their critical expertise of grassroots footballing systems should be questioned.
Although the top divisions in Italy, Spain, and England all boast 20 teams, CSL must develop within its own parameters and on footballing rather than commercial terms. Expanding the division too quickly risks diluting the quality of football and exacerbating the already existing financial disparity between teams.
Most Popular
Highlights
What's Hot