Aubameyang provides Dortmund's big bang
Gifted Gabonese continues hot streak as Borussia buries Benfica
DORTMUND, Germany - Coach Thomas Tuchel hailed Pierre-Emerick Aubameyang's 'sensational' hat-trick after Borussia Dortmund's 4-0 romp at home to Benfica saw the Germans steamroll their way into the Champions League quarterfinals.
Aubameyang has now scored seven times in his past three games and has seven Champions League goals in as many matches this season.
The result saw Dortmund win 4-1 on aggregate after its 1-0 loss in Lisbon last month.
"It was a sensational performance," enthused Tuchel.
"I love goals like his first one, because they need such good timing and Auba is always where he needs to be."
Aubameyang's first Champions League hat-trick was redemption after a night to forget in the first leg, when he missed four chances - including a second-half penalty.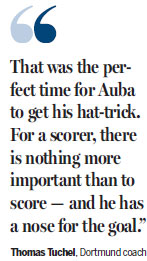 "We saw the real Aubameyang tonight as opposed to the first leg, when I think his twin brother played," quipped Tuchel.
"This was the perfect time for Auba to get his hat-trick.
"For a scorer, there is nothing more important than to score - and he has a nose for the goal."
Gabon international Aubameyang has 28 goals for the season as Dortmund reached the last eight in Europe for the first time since 2014.
He took the man-of-the-match award, but US international Christian Pulisic, who only turns 19 in September, was also outstanding.
Pulisic set up Aubameyang's opening goal with just four minutes gone, then netted the crucial second in the 59th minute to put Dortmund ahead in the tie.
Aubameyang added the third two minutes later.
"Christian is a very self-confident person and he can draw on his potential on moments like tonight," said Tuchel.
"Along with the rest of the team, he put in an exceptional second-half performance."
After Dortmund canceled out Kostas Mitroglou's first-leg goal early, Tuchel said his side lost its way after 25 minutes.
"But the second half was a top performance," he added. "If I say I expected this result it would mean that we have a lack of respect for Benfica.
"Benfica is a great, proud club and we have huge respect for them. But we played two great games and I think we deserve to go through."
The defeat ensured more German pain for Benfica, which has now lost 15 times in 23 European games away to Bundesliga clubs.
"We played well up until the point when the opponent scored two goals in quick succession," said Benfica coach Rui Vitoria.
"We didn't start well, conceding a goal after only four minutes, but then we found our way.
"We had a few goal chances in the second half, but we didn't use them and we didn't react once they got their quick goals.
"We can't say everything was bad. The result was bad, but we played well enough in places and we had our chances.
"We did all we could to reach the next round, we fought, but it wasn't enough and of course, we're sad after the result."
Tuchel said he had no preference who his side plays in the last eight.
However, he admitted the euphoria of Dortmund's victory turned into disbelief in the dressing room when the players gathered to watch the closing stages of Barcelona's stunning 6-1 win over Paris Saint-Germain to advance 6-5 on aggregate.
"We watched the last two minutes of the (Barcelona-PSG) game, thinking we were the sensational news of the round. But that clearly wasn't to be," Tuchel said with a smile.
Agence France-Presse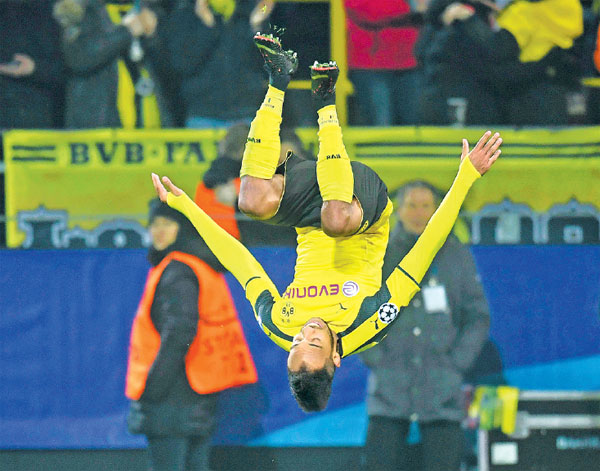 Pierre-Emerick Aubameyang somersaults after scoring Dortmund's fourth goal-his third of the game-during Wednesday's 4-0 victory over Benfica in their Champions League last-16, second-leg match in Dortmund, Germany. The host reached the quarterfinals 4-1 on aggregate. Bernd Thissen/Dpa Via Ap