Pregame blasts rock German soccer team bus, player injured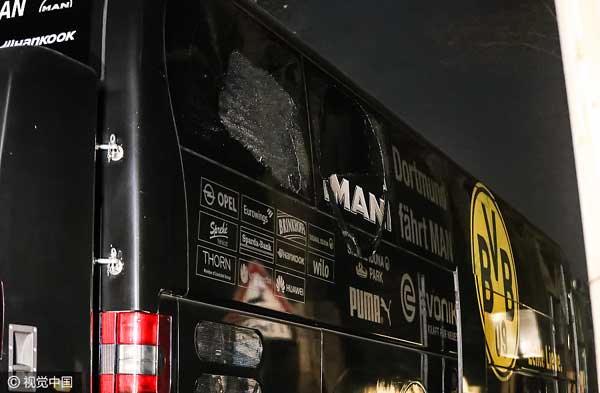 Team bus of the Borussia Dortmund football club damaged in an explosion is seen on April 12, 2017 in Dortmund, Germany. [Photo/VCG]
DORTMUND, Germany — Three explosions went off near the team bus of Borussia Dortmund, one of Germany's top soccer clubs, as it set off for a Champions League quarterfinal match on Tuesday evening. One of Dortmund's players was injured.
Police said they were working on the assumption that the blasts were directed at the Dortmund team and caused by "serious explosive devices," which may have been hidden in a hedge near a car park.
The explosions happened as the team was departing its hotel for a first-leg match against Monaco. The game was called off shortly before kickoff and rescheduled for Wednesday.
A letter claiming responsibility was found near the site of the blasts, prosecutor Sandra Luecke told a late evening news conference. She said investigators are examining the authenticity of what was written in the letter, but wouldn't reveal more about its contents, citing the ongoing investigation.
The case is being investigated as attempted homicide, Luecke said.
"We had to assume, and assumed right from the start, that this was a targeted attack against the team of Borussia Dortmund," Dortmund Police Chief Gregor Lange. Investigators are not excluding any possible angles in their investigation, while the "concrete background" to the blasts remains unclear, he said.
There were three explosions near the Dortmund bus as the team left the L'Arrivee Hotel and Spa on the outskirts of the western city of Dortmund for the stadium, around 10 kilometers (6 miles) away, at 7.15 p.m. local time (1715 GMT), police said.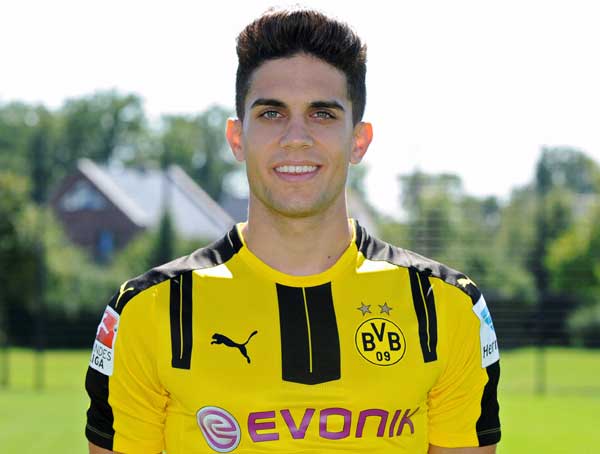 File photo of Borussia Dortmund's Marc Bartra. [Photo/Agencies]
A window on the bus was damaged and Spanish defender Marc Bartra was injured. Club spokesman Sascha Fligge said Bartra was operated on late Tuesday for a broken bone in his right wrist and to remove "foreign objects" from his arm.
Dortmund goalkeeper Roman Buerki said the team bus had just pulled out of the hotel driveway when an explosion — a "huge bang" — happened and sent glass flying. Buerki, who is from Switzerland, told Swiss daily Blick that he was sitting in the last row of the bus, next to Bartra.
Bartra was hit by shards from the broken back window, he added. Players ducked for cover, wondering whether there would be more explosions.
"We're all shocked — nobody thought about a football match in the minutes after that," Buerki said.
Most Popular
Highlights
What's Hot