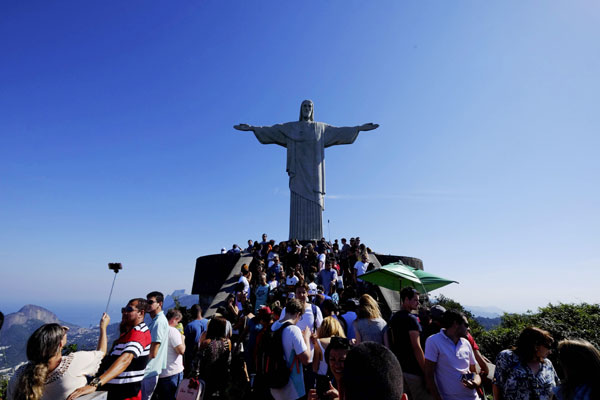 Tourists visit the Christ the Redeemer statue before the start of the Rio 2016 Olympics in Rio de Janeiro, July 24, 2016. [Photo/Agencies]
RIO DE JANEIRO -- Rio de Janeiro received 1.17 million tourists during the Olympic Games, including 410,000 foreigners, and zero cases of Zika was reported, Rio mayor announced on Tuesday.
At a press conference, Eduardo Paes gave some of the main statistics seen during the event. For the two weeks of the Games, Rio saw a hotel occupancy rate of 94 percent and each tourist spent an average of 424.6 reais (131.7 US dollars a day). The United States provided most of the foreign tourists (17 percent), followed by Argentina (12 percent) and Germany (7 percent).
Paes said that foreign arrivals had been within the expectations of local authorities, who had estimated between 350,000 and 500,000 foreign visitors.
The immediate impact of the Olympic boom was clear as Paes said that commerce increased by 70 percent in Rio's popular southern district, compared with 2015. In Barra da Tijuca, close to the Olympic Park, commerce was up 30 percent.
"This data shows the importance of the Olympic Games as they generated activity amidst the deep economic crisis Brazil is living through," said Paes.
Concerning the threat of the Zika virus, which caused a number of athletes to pull out of the Games, Paes reported that no cases were reported during the Games.
Between Aug. 5-21, the dates of the Games, 8,651 tourists were attended in public hospitals and clinics, including 2,133 foreigners. However, none of these presented the symptoms of Zika.
"There was a certain degree of alarmism, by certain sectors of the international healthcare sector, that made people think if they came to Rio, they would contract the virus," said Paes.
Experts had already warned that it was unlikely any cases of Zika would arise due to the Games, since they were happening in winter for Brazil, with the Aedes aegypti not being present during colder temperatures.