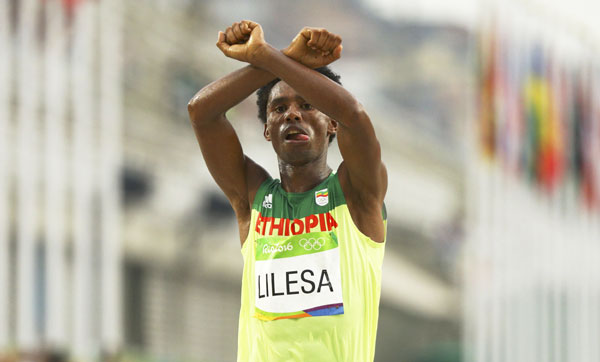 Ethiopia's Feyisa Lilesa crossed his arms above his head at the finish line of the Men's Marathon event as a protest against the Ethiopian government's crackdown on political dissent on August 21. [Photo/Agencies]
ADDIS ABABA - Ethiopia will not bar runner Feyisa Lilesa from entering the country after he made an anti-government gesture upon finishing second in the Olympic marathon on Sunday, an official said.
Lilesa held his arms over his head, wrists crossed, as he strode across the finish line to claim the silver medal in Rio de Janeiro - mimicking a sign taken up by protesters in the Horn of Africa country's Oromiya region.
The province has been riven by unrest for months over land rights and allegations of human rights violations. After the race, Lilesa said he feared he would face consequences if he returned home.
Government spokesman Getachew Reda dismissed his concerns.
"Though it is impossible to express a political stance at (the) Olympic Games, the athlete will be welcomed while returning home along with other members of the Ethiopian Olympic squad," he told state-affiliated Fana Broadcasting Corporation.
In June, Human Rights Watch said at least 400 demonstrators were killed by security forces during months-long protests triggered by government plans to include some parts of Oromiya within the capital Addis Ababa's limits.
Though that scheme has subsequently been shelved, unrest flared again this month after protesters took to the streets demanding an end to rights abuses such as the release of jailed dissidents.
The government disputes the death toll and says the protests are being staged illegally, stoked by rebel groups and oveseas-based dissidents.
Ethiopia's Olympics squad is expected to arrive in Addis Ababa on Tuesday, having won one gold, two silvers and five bronze medals in Brazil.