Rio Olympics champion Gong Jinjie comes home with honor
Gong Jinjie, gold medalist of the Women's Team Sprint cycling event at the 2016 Rio Olympics Games, returned to her hometown Jilin province, on Aug 21.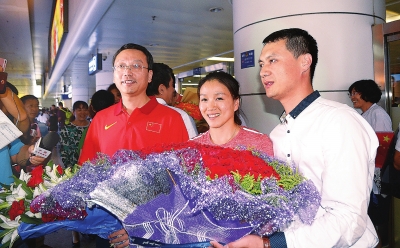 Gong Jinjie(center),the champion of the women's team sprint cycling event at the 2016 Rio Olympics Games,receives welcome honor in Changchun Longjia Airport.[Photo/Jilin Daily]  
Gong Jinjie and Zhong Tianshi won gold with a time of 32.107 seconds, the first gold medal in China's cycling history. Guan is the first Jinlin summer Olympics champion.
Gong won the silver medal at the 2012 London Olympics Game; this year she attacked even harder to take the championship. It was the most excited experience she's ever had, and one she'll never forget.
The London Olympics experience helped her mature as an athlete and reach the highest level in her sport. But, to be an Olympic champion is just one goal in an athlete's career. Gong enjoys everything she experiences and, at 30 years of age, will strive ceaselessly to perfect herself.