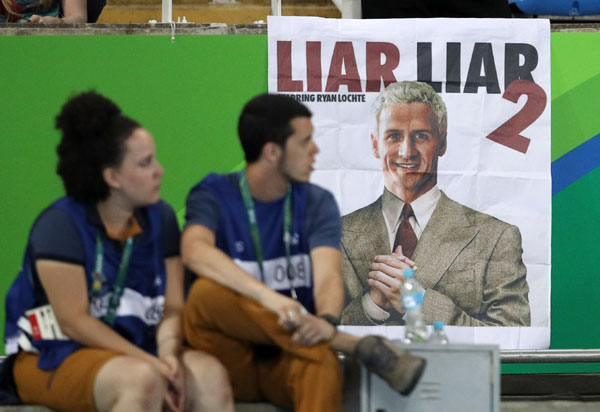 A poster showing a likeness of Ryan Lochte of USA is seen at the stadium in Rio. [Photo/Agencies]
Aug 22 - US Olympic swimmer Ryan Lochte lost all four of his major sponsors on Monday, including Speedo USA and Ralph Lauren Corp, following his apology for an "exaggerated" story about being robbed at gunpoint at the Rio Games.
Lochte's version of the incident embarrassed the host city, angered local officials and further revelations about it - casting doubt on Lochte's story - dominated news coverage of South America's first Olympics.
The US Olympic Committee issued an apology on Thursday, and Lochte, a 12-time Olympic medalist, made his own apology on Saturday in an interview with Brazil's largest broadcaster, Globo TV.
"I wasn't lying to a certain extent," he said. "I over-exaggerated what was happening to me."
Within hours of the Games coming to a close on Sunday night, swimwear maker Speedo USA issued a statement saying it would drop Lochte as one of its endorsers, while luxury retailer Ralph Lauren said it would not be renewing its contract with the swimmer.
Hair removal company Syneron Candela also ended its partnership with Lochte, four months after naming him its global brand ambassador for one of its products.
Japanese mattress maker Airweave, which last week had said it would stand by Lochte, on Monday said it had decided it would not renew the endorsement, which had been made for the Rio 2016 Olympic games.
Sponsorship and endorsement deals typically include "morals clauses" that allow sponsors to terminate deals early if they feel the athlete has behaved poorly in public.
Nottingham, UK-based Speedo's US unit said on Monday it would donate $50,000 of Lochte's fee to Save The Children, a global charity partner of Speedo.
Lochte said in an email that he respected Speedo's decision.