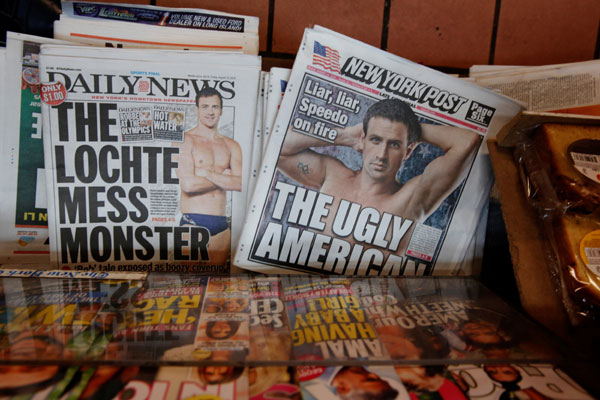 The front pages of the New York Post and the New York Daily News display the image of U.S. Olympic swimmer Ryan Lochte in New York, US, August 19, 2016. [Photo/Agencies]
"I was immature and I made a stupid mistake. I'm human. I made a mistake and I definitely learned from this," Lochte said in an interview on the Today show.
"They (the people of Rio) put on a great Games... And my immature, intoxicated behavior tarnished that a little," Lochte said.
Ralph Lauren had taken down references to the gold medalist from its website last week, and on Monday it said it would not renew the Olympic-specific deal, which featured Lochte and other Olympic athletes wearing Ralph Lauren-branded Olympic merchandise.
"We are transitioning out all Olympic visual as the games ended yesterday, and we are moving into our fall fashion message," Macy's spokeswoman Holly Thomas said in an e-mail.
Lochte, 32, won one gold medal at the Rio Olympics. He was the breakout star of the 2012 London Olympics, landing a short-lived reality TV series called "What Would Ryan Lochte Do?" and appearing, as himself, on top shows such as "30 Rock" and "90210".