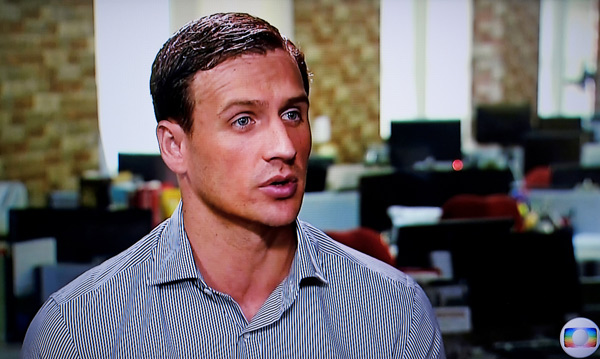 In this still image from video Olympic gold medallist swimmer Ryan Lochte of the US gives an interview to Globo TV at their studios in New York City, August 20, 2016. [Photo/Agencies]
Less than 24 hours after the close of the Rio Olympics, Ryan Lochte took a major financial hit Monday for a drunken incident he initially tried to pass off as an armed robbery.
In quick succession, four sponsors announced they were dumping the swimmer, who has since apologized and conceded that he embellished what happened during a now-infamous stop at a Rio gas station.
Swimsuit company Speedo USA, clothing giant Ralph Lauren and skin-care firm Syneron-Candela issued statements less than three hours apart, all with the same message: Lochte is out. Before the day was done, Japanese mattress maker Airweave followed suit, essentially wiping out Lochte's income away from the pool.
In addition, Speedo USA said $50,000 that would've gone to the 12-time Olympic medalist was being donated to Save The Children to benefit needy youngsters in Brazil.
"While we have enjoyed a winning relationship with Ryan for over a decade and he has been an important member of the Speedo team, we cannot condone behavior that is counter to the values this brand has long stood for," the prominent swimsuit company said. "We appreciate his many achievements and hope he moves forward and learns from this experience."
Ralph Lauren, which provided the Polo-branded attire worn by the US team at the opening and closing ceremonies, said it would not be renewing the contract that provided Lochte with financial support leading up to Rio. The statement from airweave said it had a similar arrangement with the swimmer. Both stressed they would continue their support of the US Olympic and Paralympic teams.
Syneron-Candela offers a line of skin-treatment products that deal with issues such as wrinkle reduction.
"We hold our employees to high standards, and we expect the same of our business partners," the company said.
Lochte issued a statement through his public relations firm thanking Speedo USA for its long support. He did not immediately address the other companies dropping their endorsements.
"I respect Speedo's decision and am grateful for the opportunities that our partnership has afforded me over the years," Lochte said.
Initially, Lochte said he and three teammates - Jack Conger, Gunnar Bentz and Jimmy Feigen - were robbed after their taxi was pulled over by armed men posing as police just hours after the swimming competition ended in Rio de Janeiro.
That version quickly unraveled when video surveillance of the incident emerged.