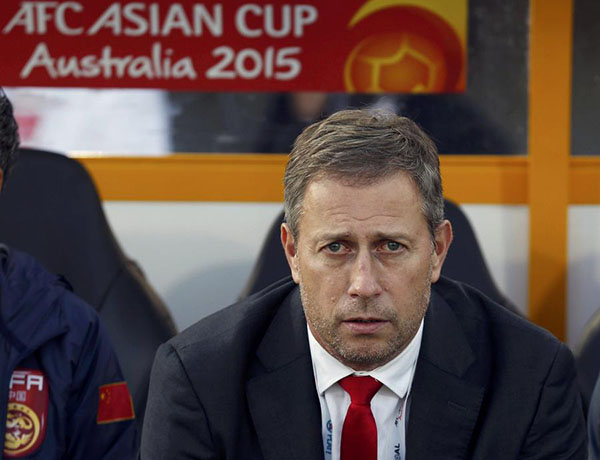 Former coach of Chinese national soccer team Alain Perrin looks on before the start of their Asian Cup Group B soccer match against North Korea at the Canberra stadium in Canberra January 18, 2015. [Photo/Agencies]
Alain Perrin was sacked as head coach of China's national soccer team after a calamitous run of World Cup qualifiers meant an early exit from the elite tournament.
The Football Association, Chinese soccer's governing body, announced Friday on its website it was cutting short the Frenchman's four-year contract before it ends in 2018.
Winning three of all six matches left Perrin's side only third in the Group C standing and no chance for the final round.
In Asia zone qualifying, only the winner of each of eight groups can be certain of a place in the final round. They will be joined by the best four runners-up. Those 12 nations will compete for the continent's four automatic spots at the 2018 Russia World Cup.
The well-traveled coach took over the helm from his Spanish predecessor Jose Camacho on Feb 28, 2014. He built credibility early in 2015 after China advanced to the last eight as group leader. Despite being stopped at quarterfinal by Australia, Chinese fans still hailed the squad as heroes, as many people said they saw progress and new hope.
However, the real test for Perrin lies in World Cup qualifying, which he apparently failed. Soccer pundits had questioned his rigid tactics and lineup choices.
Soccer on the national level has been both passion and chronic pain in China as every major setback leads to the same unsolved problem – why a country with a 1.3 billion population can't produce 11 able players.
The Football Association, stressed over the public furor, unveiled a slew of reform plans last year in a move to make China a soccer powerhouse. A seat in the 32-nation World Cup competition is its primary goal.
China has only qualified for the World Cup once, in 2002. It failed to win a single group game, conceding nine goals in the process without scoring even once.