With reforms, China can rise to be a consistent contender in about 20 years, CFA official says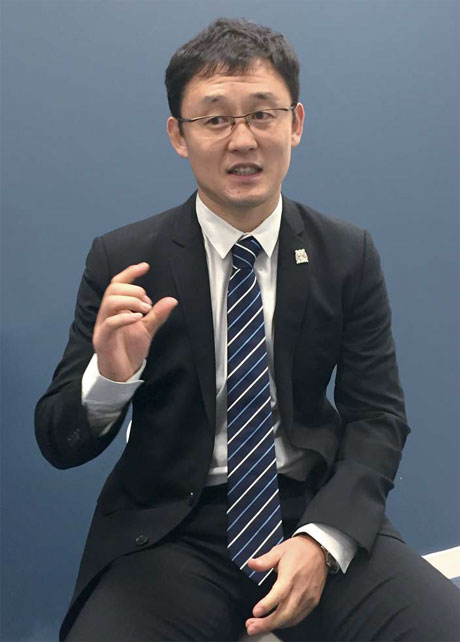 Former Manchester City defender Sun Jihai , who played for China in the World Cup, says investing in young talent is the key to future Chinese soccer success. Zhang Chunyan / China Daily
The chief of the Chinese Football Association unveiled an ambitious plan for China's national soccer team on Friday that he said would make the team a consistent World Cup contender in two decades, and crack the global top 30 regularly.
His solution: management reform and league development.
Just a month after the team missed winning a direct berth in the 2018 World Cup, the governing body turned its eyes to joining world powers by pushing forward professional reforms in the game's management at the top level, as well as in the domestic league system.
At its national congress on Friday, CFA President Cai Zhenhua laid out the long-term goal for Chinese soccer, highlighted in a national reform plan in March, to become a force to be reckoned with.
"Although we are nowhere near the world top level now, hopefully we can qualify for the World Cup and reach the Round of 16 while improving the national team's world ranking to the top 30 in about 20 years, if the reform heads in the right direction," he said after the congress concluded on Friday.
Cai's remarks sparked heated debate and even sneers online, with fans and media questioning whether the ambition was realistic, given that China ranks 84th in the world. Its only World Cup qualifying appearance was in 2002.
"It seems too radical and unrealistic for Chinese soccer to envision the high note," said Tan Jianxiang, a sports sociology professor at South China Normal University. "It's more practical and crucial to focus on implementing professional reform proposals."
Wei Jixiang, vice-president of the CFA, announced a personnel adjustment that adds two nongovernmental members to the association's executive committee. The move was approved unanimously at the congress.
Former Chinese national player and head coach Gao Hongbo, together with China Sports Media Chairman Li Ruigang - who purchased media rights of the Chinese Super League for 8 billion yuan ($1.23 billion) over the next five years - joined the decision-making committee.
"Diversifying the staff composition will help balance the decision-making mechanism to reflect the actual needs of the game's development, both technically and commercially," said Zhang Jian, secretary-general of the CFA.
The change echoed the proposal in the reform plan to delink the CFA from officials in the General Administration of Sport of China who have made centralized decisions on almost every aspect of the game, including youth training, national programs and league operations.
Representatives also agreed to set up an independent CSL council of 16 club shareholders, to run the top-level league in a way that emulates elites in other countries, such as the English Premier League.