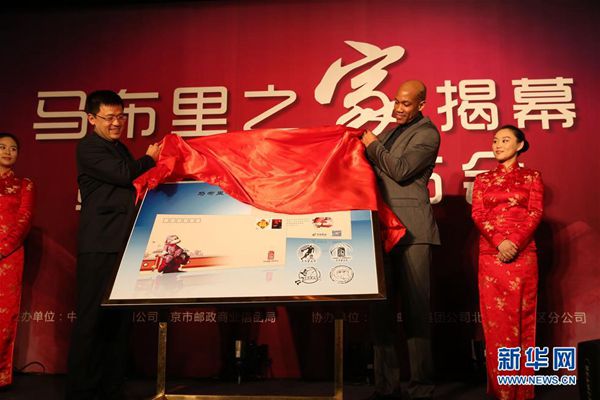 Stephon Marbury's museum is unveiled in Beijing on Monday. [Photo/Xinhua]
Former NBA All-Star guard Stephon Marbury, who led the Beijing Ducks to three Chinese Basketball Association championship titles in four years, received another high honor from the city as his personal museum was unveiled on Monday.
"Today was one of the best days of my life in opening my own museum The House OF Marbury," announced the two-time NBA All-star on his Weibo account.
"I couldn't have dreamed this dream for myself although God has created another miracle in this life for me. Without my teammates, coaches and fans from Beijing this wouldn't be possible," he said.
His fans congratulated him on the honor, saying he deserved the award.
"Finally you have a 'home' in China," a Weibo user commented. "Hope you can fight with the team for another championship," another commented.
The 300-square-meter area in downtown Beijing showcases Marbury's photos, from his childhood in Brooklyn, New York to recent years in Beijing, a place he sees as his "second home".
Marbury, accompanied by his family members, reminisced about the many impressive moments looking at these photos.
Marbury's coaches and teammates in the Beijing team attended the ceremony. "The prime of his career was spent here in Beijing," said Min Lulei, head coach of Beijing.
"Hoping to see everyone that has a basketball dream to learn more from Marbury," Min commented.
In the jersey exhibition zone, six jerseys, including Timberwolves, Nets, Knicks and Beijing, are on display, where Marbury highlighted the meaning of the Beijing jersey to him.
Marbury led Beijing to their second and third straight Chinese basketball league titles in March and was voted the CBA finals MVP.
The 38-year-old American is so popular in his adopted hometown that he was named honorary citizen of Beijing and outside Beijing's home court, the MasterCard Center, Marbury has his own statue.
Last week, Marbury said the Beijing Public Security Bureau had informed him that his application for a permanent residence card in China, which he filed in April, has been approved.
Xinhua contributed to this story