MADRID -- Arsenal left its best performance for the last game of the Champions League group stage, advancing to the round of 16 with a remarkable 3-0 victory at Olympiakos on Wednesday. Chelsea also went through on a good night for English soccer with a 2-0 home win over FC Porto.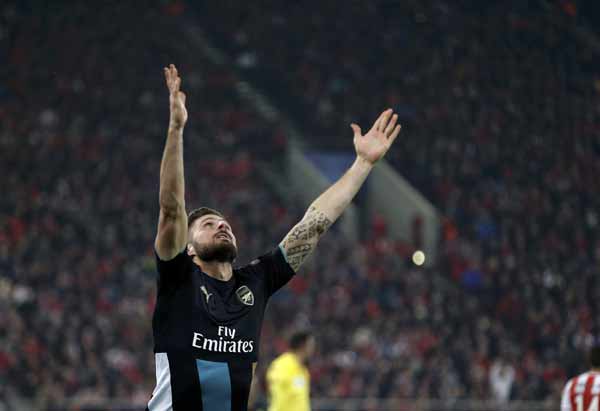 Olivier Giroud celebrates after scoring the second goal for Arsenal. [Photo/Agencies] 
"I told you before that it would be the greatest escape," Arsenal coach Arsene Wenger said.
Both Arsenal and Chelsea were trying to avoid following in the footsteps of fellow Premier League club Manchester United, which was eliminated on Tuesday.
Roma's 0-0 draw against BATE Borisov was just enough to allow the Italian club to edge Bayer Leverkusen for second place in its group. Leverkusen couldn't manage more than a 1-1 home draw against already qualified Barcelona as Lionel Messi scored his 80th goal in the tournament.
Belgian side Gent advanced in its first ever Champions League campaign after beating already qualified Zenit St. Petersburg 2-1, a result that eliminated Valencia in Gary Neville's first game in charge of the Spanish club.
Here is a group-by-group look at Wednesday's matches:
Group E
With nothing to play for, group winner Barcelona played Bayer Leverkusen with a largely reserve side bolstered by Lionel Messi. And the Barcelona captain came through again, scoring his 80th Champions League goal.
He collected a perfect through ball from Ivan Rakitic and rounded the goalkeeper to score in the 20th. Javier "Chicharito" Hernandez leveled three minutes later but it was too little for Leverkusen to advance.
Barcelona coach Luis Enrique was without Neymar because of an injury and benched Luis Suarez to give him some rest, while Andres Iniesta and Gerard Pique didn't even travel to Germany.
"We had enough chances to win the match," Leverkusen coach Roger Schmidt said. "It's very disappointing."
In Rome, the hosts did the bare minimum against BATE Borisov and the 0-0 draw was enough to place it second behind Barcelona. Roma and Leverkusen each finished with six points but Roma held the edge with a better head-to-head record. BATE finished last with five points.