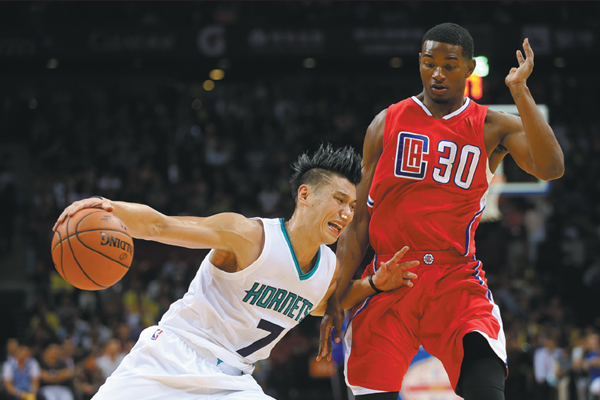 Charlotte Hornets point guard Jeremy Lin drives past Los Angeles Clippers' C.J. Wilcox during the fourth quarter of Sunday's NBA Global Games China clash in Shenzhen, Guangdong province. Lin led the Hornets to a 106-94 victory. [Photo/Agencies]
Charlotte Hornets center Al Jefferson says playing in China alongside new teammate Jeremy Lin is like hanging out with a rock star.
It certainly looks that way. Everywhere Lin has appeared during the Hornets' two-game preseason tour fans have mobbed him, chanting his name and holding out posters and jerseys for him to sign.
The team's first game, a 106-94 win over the Los Angeles Clippers at Shenzhen Universiade Center on Oct. 11, ended with the Chinese-American star holding court in a group interview while his teammates looked on from outside the media scrum.
"Everybody loves him," Jefferson said. "That's not just over here (in Shenzhen), everywhere people love to see him. That's amazing."
Lin received the loudest ovation in the packed 17,000-seat arena when he took the court midway through the first quarter and received boisterous applause for every shot he made.
"I'm just thankful for this," said the point guard, who signed with the Hornets in a free-agent deal worth $4.3 million over two years. "I come back to China almost every summer and every time they (the fans) treat me very well."
The devout Christian admitted in a recent interview with the Charlotte Observer that the overwhelming support can be "scary," though, and revealed he needs a bodyguard to feel safe while in China.
"I can't get used to it (fame) sometimes. It's not something I ever expected, but I'm definitely very thankful for it, no question," Lin told China Daily early this year during a commercial tour for Tag Heuer. "My grandparents were born and raised in China. I'm not like 7 foot and I play point guard — there are a lot of different aspects that I feel ordinary (Chinese) fans can relate to."
The 27-year-old Harvard graduate became an idol for Chinese fans when he led the struggling New York Knicks to a winning streak in 2012, inspiring "Linsanity." His instant stardom saw him grace the covers of Sports Illustrated and Time, and his No. 17 jersey became the league's top-seller.
However, he was unable to replicate the success with his next two teams — the Houston Rockets and the Los Angeles Lakers.