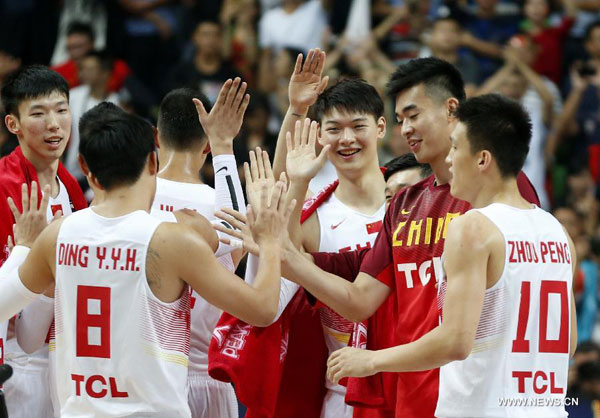 Players of China celebrate their victory over Iran after the semifinal of 2015 FIBA Asia Championship in Changsha, capital of central China's Hunan Province, Oct. 2, 2015.[Photo/Xinhua]
CHANGSHA - Supported by loud cheers and applause of home audience, China downed defending champions Iran 70-57 in the semifinals of Asian Championship here on Friday.
The match started with Zhou Qi's block on Ehadadi, after Ding Yanyuhang scoring the first two points for China, Zhou blocked another shot at the other end of the court.
China limited Iran to 12 points after a fierce first quarter, which they won 21-12. Zhai Xiaochuan's shot brought the lead to double-digit in the second quarter.
Bahrami then paced Iran to a 8-0 run and Ehadadi stopped Ding Yanyuhang and Zhou Qi in a row but the latter soon responded with a splendid alley-oop. Captain Zhou Peng scored a three-pointer but missed the following free-throw. China led 39-29 after first half.
China gradually extended their advantage after the break. Former NBA player Yi Jilian demonstrated dominance by a three-pointer and a fast break one-hand slamdunk. China once enlarged the lead to 16 points in the third quarter.
Ehadadi proved his ability with six straight points in the paint and help Iran cut the deficit down to six points. China answered with Yi's dunk and Zhou Qi's block. Ding Yanyuhang scored last two points for China with two free throws after Iran's last three-pointer. China headed into final with a 70-57 victory.
Yi Jianlian finished with 13 points and eight rebounds. Hamed Ehadadi had double-double of 16 points and 11 rebounds with Bahrami contributing a match-high 18 points.
"T oday's game is over," China's head coach Gong Luming said at the press conference, "we are not yet the champions, we still have one more game ahead."
Japan and the Philippines are fighting for the other final berth. The winners of the Championship will have direct access to 2016 Rio Olympic Games.