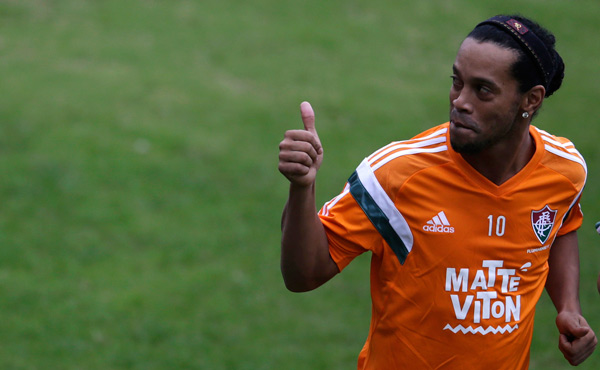 Brazilian soccer club Fluminense's newly signed player Ronaldinho Gaucho greets fans during his first training session with the club in Rio de Janeiro, Brazil July 27, 2015. [Photo/Agencies]
RIO DE JANEIRO - The president of Brazil's Fluminense on Tuesday denied the club made a mistake by signing two-time FIFA World Player of the Year winner Ronaldinho.
The 35-year-old is yet to score in seven appearances since joining the Rio de Janeiro outfit in July.
Meanwhile Fluminense have tumbled from fourth to 11th in Brazil's Serie A standings.
"We are working together so that Fluminense get back to winning," president Peter Siemsen told a press conference.
"We believe in the group and the work we are doing. If you look at what is happening at other clubs you can see that inconsistency is a common theme for Brazilian clubs."
Ronaldinho joined Fluminense almost two months after playing his last match for Mexico's Queretaro.
Siemsen said the former Barcelona star has been hampered by a lack of preparation.
"It's a situation that isn't easy. We want him to be fit," Siemsen said.
"I would say that (signing him) was an opportunity. If he leaves before the end of his contract, we might say otherwise. I think that the situation hasn't been ideal for him to be playing his best football."
Fluminense are 12th in Brazil's Serie A standings with 10 wins from 27 matches.
Last week Eduardo Baptista became the club's fourth head coach this year after the sacking of Enderson Moreira.