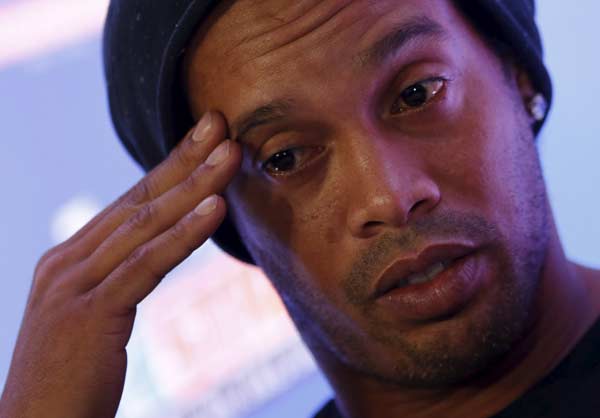 Brazilian soccer club Fluminense's player Ronaldinho listens during a news conference before starting a clinic with children in Mexicon City July 22, 2015. [Photo/Agencies]
RIO DE JANEIRO -- Ronaldinho on Monday defended his decision to pose for photographs in the opposition dressing room after Fluminense's 2-1 defeat to Atletico Mineiro.
The two-time FIFA world player of the year winner was replaced in the 68th minute after a below-par display against his former club at the Maracana stadium on Sunday.
"I do that nearly every game," Ronaldinho told reporters. "I went there because I created history with those guys. The majority asked for a shirt so I went there and brought one for them. What I did has nothing to do with my bad performance during the game."
The 35-year-old, who has yet to score in six matches since joining Fluminense in July, was jeered by some Fluminense supporters during the match.
The result lifted Atletico Mineiro to second in Brazil's Serie A standings while Fluminense slipped to sixth.
Ronaldinho remains a much-loved figure at Atletico Mineiro, the club he helped win the 2013 Copa Libertadores, South America's premier club trophy.