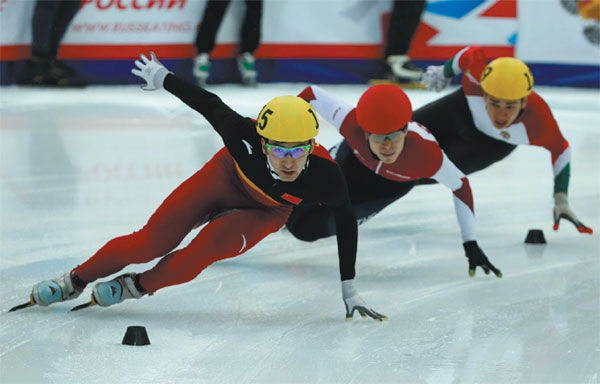 Wu Dajing leads the pack to claim gold in the men's 500m short track speed skating event at the World Championships in Moscow in March. Reuters
Beijing 2022 has also promised a frugal plan, with a total budget of slightly over 3 billion US dollars, split between games operation and infrastructure construction.
"In line with the concept of holding an economical Games as well as the Olympic Agenda 2020, we have tried to keep down costs, " said Wei Jizhong, a senior consultant for the Beijing 2022 Bid Committee.
Five out of the six venues proposed in the Beijing city zone are already in place, including the iconic "Bird's Nest" stadium and "Water Cube" arena from the 2008 Summer Olympics, helping to keep down the costs.
Wei also stressed China's proven capability to handle an Olympic-scale event.
"China is a reliable partner, because we always honor our committment. The Beijing 2008 Summer Games are a perfect example," he said.
"If the IOC award the 2022 Games to Beijing, we will keep our promise, too."
Related:Public warming to winter competitions
         Chinese athletes set to break new ice