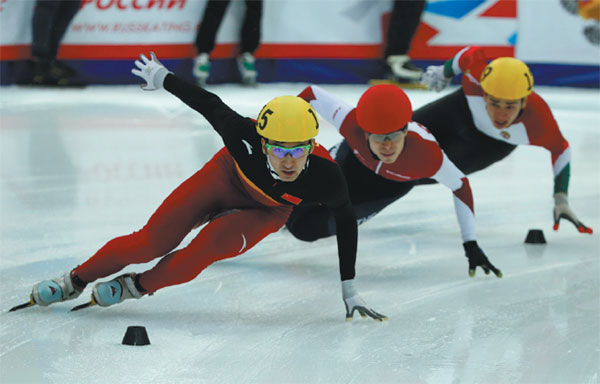 Wu Dajing leads the pack to claim gold in the men's 500m short track speed skating event at the World Championships in Moscow in March. Reuters
Although not yet a world powerhouse in winter sports, China has achieved major breakthroughs in major competitions on ice and snow, and aims to develop more balanced strengths in winter sports with a promising group of young athletes.
China's improving competition level in winter sports was proven by the impressive performances of up-and-coming skaters and skiers during the 2014-15 winter sports season. "After each Winter Olympics, all the teams are in a transition period the following season, so we didn't get many champions or gold medals," said Ren Hongguo, head of China's winter sports authority.
"But surprisingly, we have found young talent and rising stars in many teams, which is good."
In short track speed skating, China has maintained its power in the short distance events, although veteran Wang Meng retired after the 2014 Sochi Winter Olympics.
Fan Kexin, 22, set a world record in the women's 500m at the opening stop of the World Cup series and claimed the gold medal for the event at the World Championships in Moscow.
On the men's side, Wu Dajing, 20, won the men's 500m and led the team in winning the 5,000m relay at the World Championships.
"The short track speed skating team continued its systematic training after the Sochi Winter Olympics and the transition of the team is going smoothly," Ren said.
In figure skating, China's young pair of Sui Wenjing and Han Cong claimed silver at the World Championships, overtaking comeback veteran pair Pang Qing and Tong Jian, who concluded their career with a bronze. Another Chinese pair, Peng Cheng and Zhang Hao, finished fourth.
Even without the Pang-Tong pair, China's young skaters have been strong enough to continue the country's glory in the event, as Sui-Han, Peng-Zhang and another pair, Yu Xiaoyu and Jin Yang, gained half of the places at the Grand Prix Finals this season.
While Chinese skaters continued their winning momentum on ice, their compatriots competing in skiing disciplines have delivered encouraging results as well, showing prospects to close the gap with the European powers on the piste.
Cai Xuetong, 21, claimed gold at the FIS snowboarding World Championships in the women's halfpipe, which used to be dominated by Western competitors, while her male teammate, Zhang Yiwei, 22, won silver in his event.
"Cai's victory showed that our young snowboarders are rising to challenge the world's top players," Ren said.