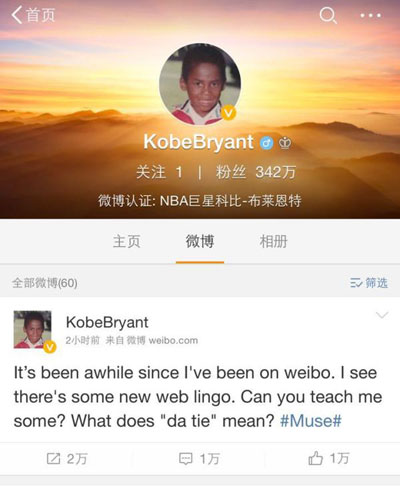 The Weibo account of Kobe.
After finishing his injury-laden NBA season with the Los Angeles Lakers, basketball superstar Kobe Bryant has to watch the upcoming finals from the sidelines.
However, the 19-year NBA veteran can still stir up a frenzy on social media. He posted an update on his Weibo account, or the Chinese version of Twitter, on which he has more than 3 million followers, on June 2:
"It's been a while since I've been on Weibo. I see there's some new web lingo. Can you teach me some? What does "da tie" mean? "
The post immediately drew tens of thousands of comments from Chinese Web users, with some basketball fans trying to explain the catchphrase to the NBA star.
Web user @LiuTianyu CDYT said: "da tie is Chinese, that means if you shot, you can get the voice of Duang. It's so cool, right?
@Kyrie_basketball:"da tie means miss the shot"
Some detractors puke fun of Kobe ruthlessly.
@Machy: "Da tie is what happens after you shot, old man."
@Hht – TaiJason: "Bro, you are the best Iron Man in NBA history."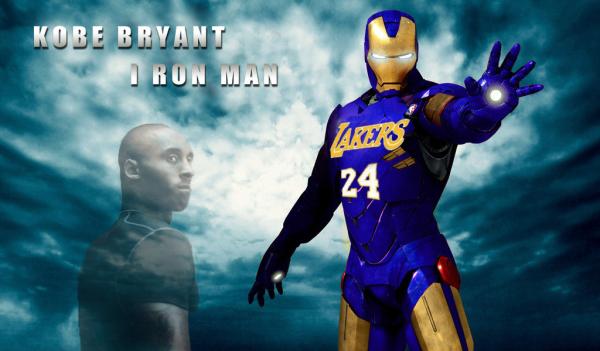 Photo from the Web
Of course, there is no lack of supporters of the NBA star.
@RevenantM:"Datie means u r the best player, Mr 30000, the Mvp and so many legacies of u."
@Zifengge:"It means you are great that even you shot but don't get point, you still shot and shot. Because you are the best and I love you, Kobe."
Bryant surpassed Michael Jordan as the third-leading scorer in NBA history in the 2014-2015 season, and has won five NBA championships, the most of any current player, but he is also notorious for missing shots. He missed 16 shots against the Grizzles in November 2014, making him the player who missed the most shots in NBA history.
"Datie" literally means hitting iron, and is often used by Chinese basketball fans to indicate the sound when a missed shot hits the basketball hoop.