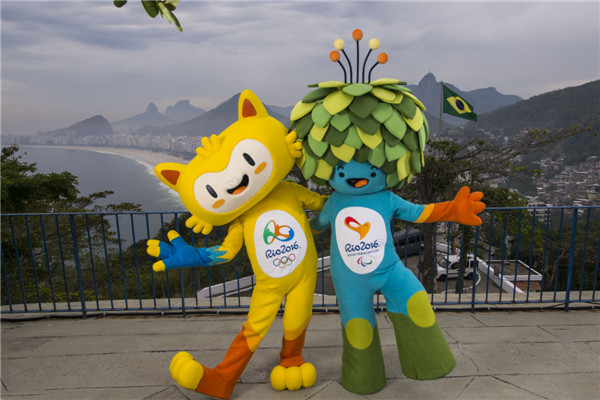 The unnamed mascots of the Rio 2016 Olympic and Paralympic Games are pictured with the Copacabana beach in the background during their first appearance in Rio de Janeiro, Nov 23, 2014, in this handout courtesy of the Brazil Olympic Committee (COB). These mascots of Rio 2016 Olympic and Paralympic Games are inspired by the Brazilian fauna and flora, and their names will be decided through a public vote, according to the COB. [Photo/Agencies]
RIO DE JANEIRO - The Rio 2016 Paralympic torch relay will take place in all five regions of Brazil over seven days, organizers announced on Monday.
The relay will also feature the British town of Stoke Mandeville, the birthplace of the Paralympic Games.
One city from each of Brazil's regions (North, North East, Central-West, South East and South) will stage its own relay, culminating with the lighting of a mini cauldron.
Another flame will be lit in Stoke Mandeville and then all six flames will be sent to Rio to jointly form the Paralympic flame.
About 500 torchbearers will carry the flame and the public will be encouraged to participate via digital media.
Brazilian bank Bradesco and Japanese car maker Nissan were announced as the official sponsors of the torch relay.
Monday's torch relay details come a day after a troupe of dancers performed a flash mob on Copacabana beach to celebrate the 500 day countdown to the Paralympic Games.