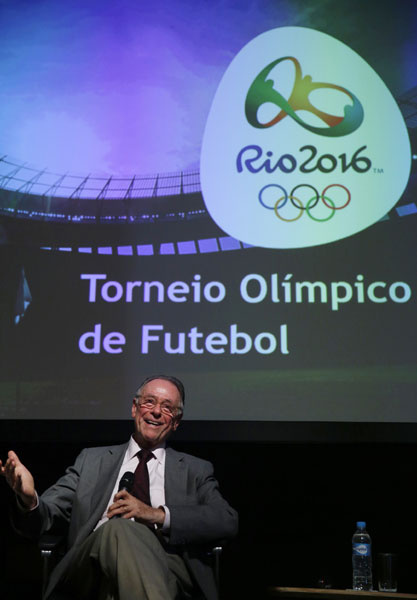 The President of the Brazilian Olympic Committee and head of the Rio 2016 Olympic Games Carlos Nuzman attends a news conference in Rio de Janeiro February 12, 2015. The number of cities bidding to host football matches in the 2016 Olympics has been increased from five to six and now includes the Amazonian capital of Manaus, Brazilian officials said on Thursday. [Photo/Agencies]
RIO DE JANEIRO -- Rio started on Tuesday the 500-day countdown for the 2016 Olympic Games.
The beginning of the countdown means that the planning phase is over and Rio is now in the execution phase of the Olympic projects.
Carlos Arthur Nuzman, head of the Brazilian Olympic Committee (COB) and the Organizing Committee for the 2016 Olympic Games, stressed the importance of the Games for Rio, saying that the competition will lead to a great change in the city, even more than it was seen in Barcelona (1992) and Tokyo (1964).
"The population will be the greatest beneficiary of the Games," he said.
Nuzman, a former Olympic athlete who participated in the Tokyo Olympics in 1964 in Brazil's volleyball team, stressed that the infrastructure projects carried out to prepare Rio for the Games, including the large port area revamp which is underway, will transform the city.
In addition, Nuzman highlighted that the Olympic projects are on schedule - an understandable concern for Brazilians, as many of the projects foreseen for the 2014 FIFA World Cup, such as airport renovations and new subway lines, were not ready by the beginning of the competition.
The 2016 Olympic Games in Rio will be held from August 7 to 18.
A second ceremony to mark the 500-day countdown for the Paralympic Games will be held as well. The Paralympic Games take place a few weeks after the end of the Olympic Games, in the same host city.