Westbrook has 41, West edges East in NBA All-Star Game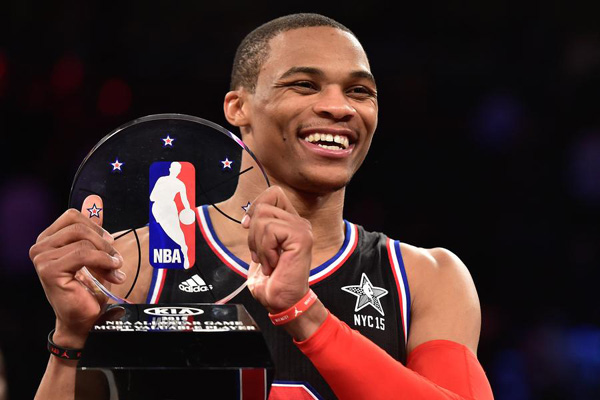 Western Conference guard Russell Westbrook of the Oklahoma City Thunder (0) wins the MVP trophy after the 2015 NBA All-Star Game at Madison Square Garden, New York, NY, February 15, 2015. The West defeated the East 163-158. [Photo/Agencies] The West defeated the East 163-158. [Photo/Agencies]
NEW YORK - Russell Westbrook scored 41 points, one short of the NBA All-Star Game record, as the Western Conference beat the East 163-158 on Sunday.
The Oklahoma City speedster had a record 27 points by halftime and closed out the scoring with two free throws, falling one point behind Wilt Chamberlain's 42 points in the 1962 game. He was voted the game's MVP.
The NBA's return to New York showed off everything about the Big Apple, and by the time Frank Sinatra's "New York, New York" played after the game, it was clear Westbrook was king of the hill.
"It's amazing. It's a blessing to be here in New York City," Westbrook said during the MVP ceremony.
James Harden added 29 points, eight rebounds and eight assists for the West, which built a 20-point lead in the first half and then pulled away after it was tied at 148 with a little more than 4 minutes remaining.
LeBron James finished with 30 points, but couldn't lead the East to the victory in his favorite NBA arena.
Harden's 3-pointer snapped the final tie with 4:02 to play and Chris Paul followed with consecutive baskets. Westbrook's fifth 3-pointer put it away at 158-149 with 2:22 to go.
Atlanta's Kyle Korver made seven 3-pointers and scored 21 points for the East, while Washington's John Wall had 19.
But right from the start, the players were sharing the stage.
Christina Aguilera appeared from behind a giant big apple, and belted out some New York-inspired numbers to start the show, joined on stage by the Rockettes.
Entertainment's elite were all over the arena, with players hobnobbing with rapper Jay-Z and boxing champ Floyd Mayweather near their courtside seats at halftime. But the biggest roar came for a star from another sport _ politics.
Most Popular
Highlights
What's Hot