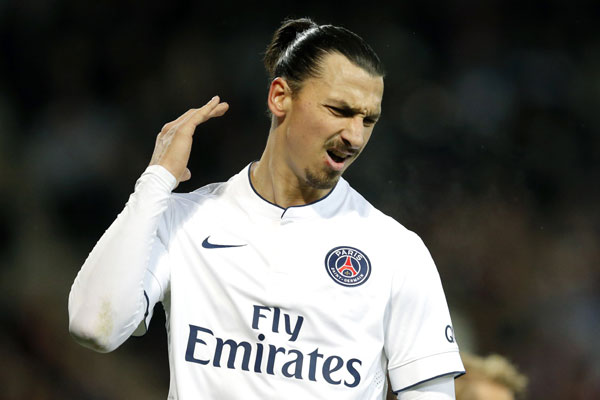 Paris St Germain's Zlatan Ibrahimovic reacts after missing an opportunity to score during their French Ligue 1 soccer match against Guingamp at the Roudourou stadium in Guingamp, December 14, 2014. [Photo/Agencies]
PARIS - Paris Saint-Germain striker Zlatan Ibrahimovic has reportedly shot dead a moose while enjoying a mid- season break away from Paris, which sparked outrage amongst animal rights groups.
The controversial Swedish superstar, 33, returned to his homeland for Christmas when he's alleged to go on a hunting trip during which he shot dead a 500kg moose, reported Swedish newspaper Expressen over the weekend.
According to the story, Ibra killed the animal with "one shot through its heart" and he's "very happy" with his trophy.
Earlier this year, the PSG player, known as a hunting enthusiast, even appeared in a Volvo advertisement in which he points a gun at a moose.
The claims that the advert became a reality has led to anger from animal rights activists.
"It is problematic," Expressen quoted Camilla Bjorkbom of Sweden's Animal Rights' Union as saying. "It is always problematic when famous people do things like that, because then it looks like they support this type of activities."
Ibra is not available for comments as the striker is in action with the Parisiens Tuesday night in a friendly match against his former team Inter Milan at Marrakesh, Morroco.