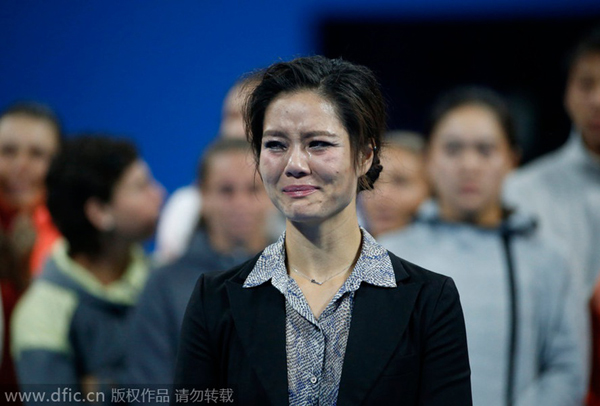 China's tennis ace Li Na tearfully attended a special farewell ceremony held for her, to call an end to her competitive career due to knee injuries, during the China Open tennis tournament at the National Tennis Stadium in Beijing, on Sept 30, 2014. [Photo/IC]
BEIJING -- Li Na wasn't just a Chinese trailblazer, she was one of the best players ever to play the sport, but injuries caught up with her in 2014 and she had to say farewell, leaving a big gap in Chinese tennis.
It was one of the most surprising retirements in women's tennis. Despite the age of 32, Li was truly in the prime of her career - earlier in the year she had not only captured her second Grand Slam title at the Australian Open, she ascended to No. 2 in the world, only Serena Williams keeping her from world No. 1.
Although Li suffered early exits at the French Open and Wimbledon, the Chinese still headed into the summer hardcourt season at that world No. 2 ranking, hot on Williams' heels.
But after announcing she wouldn't be able to play the whole summer hardcourt season due to a knee injury, rumors started swirling.
On September 19, just a few days from her hometown Wuhan making its WTA debut, she announced retirement in an open letter.
Li said: "After four knee surgeries and hundreds of shots injected into my knee weekly to alleviate swelling and pain, my body is begging me to stop the pounding. My previous three surgeries were on my right knee. My most recent knee surgery took place this July and was on my left knee. After a few weeks of post-surgery recovery, I tried to go through all the necessary steps to get back on the court. While I've come back from surgery in the past, this time it felt different."
"As hard as I tried to get back to being 100%, my body kept telling me that, at 32, I will not be able to compete at the top level ever again. The sport is just too competitive, too good, to not be 100%."
Li left a legacy, not just for China, but for Asia as well. She was the highest-ranked Asian player in tennis history, male or female, Japan's Kimiko Date-Krumm holding the previous record of No. 4. She was also the first player from Asia, male or female, to win a Grand Slam title, doing it twice at the 2011 French Open and 2014 Australian Open. And she also gives hope to all of those players grinding it out year after year with Grand Slam dreams - she was the best late bloomer in the Open Era, winning her first two majors at age 29 and 31.
"Li Na is China's first Grand Slam singles winner, and is definitely instrumental in expanding the game in China, where tennis participation doubled in the past five years," said Zhang Qi, former Chinese national women's tennis team coach.
"When the sport is gaining root in China, it lost its biggest icon, I think it's not good for Chinese succession planning in tennis. The country needs a new star," Zhang added.
After Li's exit, Peng Shuai, this year's US Open semifinalist, became China's top female player, ranked 21st in the world, and Peng is 28 years old. There are just three other in top 100, namely Zhang Shuai (61), Zheng Jie (91) and Zheng Saisai (100). And in men's part, the best Chinese player is Zhang Ze, who is ranked at 184 in the world.
"I don't think we can have a big star like Li Na in the next few years, maybe we have to wait for 10 years. Li is talented and hard working, the young guns just need to learn so many things from these trailblazers," said Zhang, who is now guiding central China's Henan provincial tennis team.
There're some upbeat forecasts. "The sport has become more and more lucrative and players will go hard for it, so it is hotly contested than before, now you can see the top 10 players are coming from 10 different countries or regions," said Wang Peng, the current Chinese national women's tennis team coach.
"Although Li can't be duplicated, we are able to have more Chinese players in top 50 in the next few years and we're working on it," Wang added.
Special: