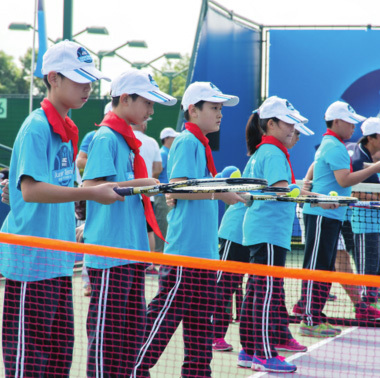 Young candidates taking tennis lessons sponsored by ANZ at a coaching center in Shanghai. [Provided to China Daily]
The Australia and New Zealand Banking Group Ltd said it will invite two of China's brightest young tennis stars to attend next year's Australian Open, being held over the last fortnight in January in Melbourne.
On the sidelines of the Shanghai Rolex Masters earlier this month around 200 children took part in an event supported by ANZ's Junior Tennis Program, at the city's Qizhong Tennis Centre.
The youngsters were given access to professional tennis coaching on the same arena where some of the world's top players faced off with some even given the chance to knock up with the stars.
ANZ is the only Australian banking corporation registered in China, and has branches in Shanghai, Beijing, Guangzhou, Chongqing, and Hangzhou. It has already established long-term partnerships with community partners and non-government groups centered around, it says, enhancing financial capacity, responsible practices, urban sustainability as well as developing education and employment opportunities for young and underprivileged individuals.
ANZ is signed up to be the Shanghai Masters' international banking and finance partner until 2018, extending an association with tennis beyond its existing partnership with the Australian Open, Asia Pacific's only Grand Slam famously won this year by Chinese tennis icon Li Na.
The company's Junior Program involves weekly training workshops under the guidance of experienced tennis coaches.
The company's chief executive of international banking Farhan Faruqui said that two Chinese children will win the chance to be part of a junior tennis exchange during the Australian Open, adding: "We're proud to be associated with this program in Australia and China, supporting grass roots tennis development.
"We really hope we can find the next Chinese Grand Slam winner."
Since early last year the ANZ program has involved more than 1,000 participants from schools in China. The company is also involved in the development of tennis among children in Australia, sponsoring ANZ Hot Shots, a program with over 480,000 registered participants there.