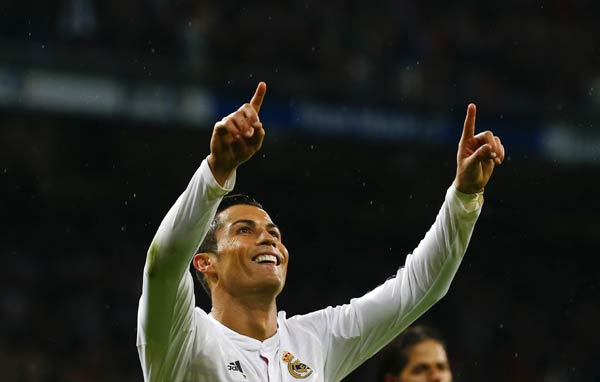 Real Madrid's Cristiano Ronaldo celebrates his goal against Rayo Vallecano during their Spanish first division soccer match at Santiago Bernabeu stadium in Madrid November 8, 2014. [Photo/Agencies]
MELBOURNE -- Real Madrid, which boasts the most expensive squad in world football, has been announced as one of three teams to compete in the International Champions Cup in Melbourne in July.
The tournament is scheduled for the Melbourne Cricket Ground ( MCG) on July 18-24 and means the likes of Cristiano Ronaldo, Gareth Bale, Sergio Ramos and James Rodriguez will don the famous all white kit at one of Australia's most iconic venues.
The other two teams are yet to be confirmed, but it has been widely tipped that fellow European powerhouses Manchester City and Inter Milan would round out the three-team extravaganza.
Organizers said the other teams involved in the pre-season friendly tournament would be confirmed in the next few weeks.
The long-rumored event was confirmed on Monday by Victorian Sports Minister Damien Drum, who said the state government had pledged more than 8.7 million U.S. dollars to bring the tournament to Melbourne.
Drum said he expected the three fixtures would generate around 43.5 million U.S. dollars to the local economy.
He thanked Australian Football League chief executive Gillon McLachlan, whose organisation has rights to the MCG during the winter, for scheduling their season around the tournament.
"It has taken some negotiations but the goodwill in which these negotiations have taken place deserves credit," he said.
The three teams will play in a round-robin tournament, which has been staged predominantly in North America for the last two years.
Given that the event will take place a month before the start of the next European season, the famous teams are expected to bring over their full squads.
Ronaldo is the current holder of the FIFA Ballon d'Or handed out annually to the world's best player.
Former Socceroos striker John Aloisi, who played in the Primera Liga for Osasuna and Alave, told SBS on Monday the tournament was a huge coup for Victoria. "I got to play in Spain for six years and experience how big Real Madrid were," he said.
"They buy the biggest players in the world and make it work. Watching them live is another experience. I can't wait."
When the tournament was held last year in the United States, Manchester United beat Liverpool 3-1 in the final.
The announcement follows recent blockbuster tours that saw Manchester United play in Sydney and Liverpool feature in front of a packed-out MCG.