'Coco' Xu Shilin made tennis history on Tuesday when she officially moved atop the International Tennis Federation world junior rankings for girls' aged 18 and under, becoming the first Chinese player to have an ITF top junior world ranking.
The 16-year-old Xu catapulted to the top of the rankings from her No 3 spot by capturing the singles and doubles titles at last week's Osaka Mayor's Cup in Japan.
Xu, who hits two-handed forehand and backhand strokes, dropped only one set while dominating six opponents to win one of the world's most prestigious junior singles titles.
"I am very proud to become the first Chinese player to earn the No 1 world junior ranking," said Xu, who has been Asia's top-ranked junior player over the past two years. "The season is not over yet, so I need to stay focused and continue to play like I did in Japan."
In Osaka, Xu routed promising teammate Zheng Wushuang, 6-1, 6-0, in the semifinals and then dispatched Australia's Kim Birrell 7-5, 6-3 in Sunday's final.
Xu set up her Japan sweep on Saturday by teaming with Australia's Sarah Tomic to defeat five opponents en route to the doubles title.
"Osaka was a really incredible week as I played my style of tennis, keeping the points short and always being aggressive," said Xu, who lives and trains in Shenzhen with her father and coach, Xu Yang.
"Recently I've been focusing on improving my physical strength and endurance and it made a difference as I felt more energy during the last couple of days."
Xu, the singles gold medal winner at the Nanjing Youth Olympic Games in August, has three more tournaments this season.
She will attempt to defend her Asian titles in singles and doubles in South Korea from Nov 10-16, and then finish the season during the first two weeks of December playing two world-class events - the Eddie Herr and the Orange Bowl - in Florida.
"Shilin's performance since July at Wimbledon has been incredible," said Frank Sha, Xu's business agent at ZOU Marketing, which started to work with the prodigy when she was 12.
"She reached the Wimbledon junior singles quarterfinals and it gave her a lot of confidence, which led to her winning Olympic gold in Nanjing during August.
"China's never had a season-ending top-ranked world champion in tennis in juniors or at the professional level so it will be exciting to see what she can accomplish during this final stage."
As a junior, Xu was limited to playing 12 professional tournaments in 2014 but has still managed to climb to No 414 in the latest WTA world rankings, one of the highest rankings for a junior player.
"I am looking forward to playing more WTA events next year but for now I just want to finish 2014 with giving my best effort in Korea and Florida," said Xu.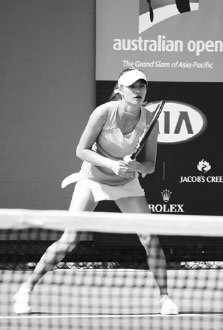 Xu Shilin competes in the junior competition at the Australian Open in January. Provided to China Daily