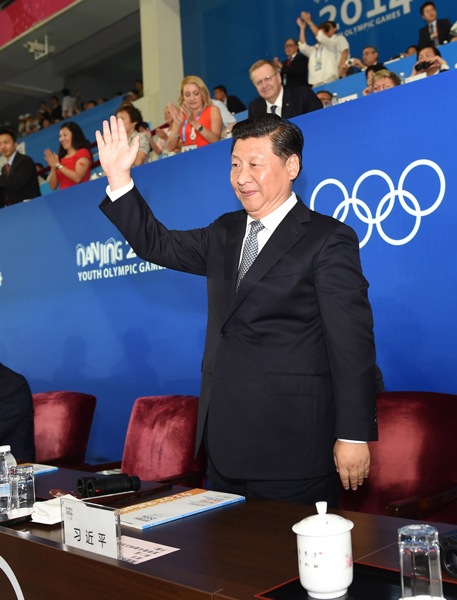 Chinese President Xi Jinping declares open of the 2nd Summer Youth Olympic Games at the ceremony in the modern Olympic Sports Complex in Nanjing, Jiangsu province, August 16, 2014. [Photo/Xinhua]
NANJING - Chinese President Xi Jinping said on Saturday that he believes the 2nd Summer Youth Olympic Games will be a grand, wonderful gathering with Chinese characteristics.
Xi made the remarks at a banquet dinner to welcome foreign guests in Nanjing to attend the opening ceremony of the games.
The youth Olympics is not only games where the youth can show their sports skills, but also a platform for cultural exchanges and belongs to all young people in the world, said the Chinese president.
Xi said every youngster that participates in the games can be a "goodwill ambassador" that promotes understanding, friendship and cooperation between different nations, which will help to lay a solid social foundation for friendly interactions among countries and build a harmonious world featuring permanent peace and common prosperity.
He said peace, development, cooperation and win-win results are common aspirations shared by all nations.
As the Chinese people are working to realize the Chinese dream of national rejuvenation, sports games serve as important means to improve health of the people and will generate a strong spiritual force that consolidates the people's strength to achieve national rejuvenation, Xi said.
He also voiced gratitude to the International Olympic Committee (IOC) and all the governments and people concerned for their support, and pledged that Nanjing will present the world a wonderful gathering for youngsters from all over the world.
Also at the dinner, IOC President Thomas Bach thanked the Chinese side for its support for the Olympic movement as Nanjing holds the youth Olympics only six years after the Beijing Olympics.
Bach congratulated China on its sports achievements, saying that he appreciates China's important role in the sports stage of the world.
The IOC chief said all the athletes will not only compete for medals, but also learn more about mutual respect, rules, fairness and justice during the games.
Prior to the dinner, Xi and his wife Peng Liyuan met with the guests from the IOC. On Saturday morning, Peng and the spouses of some foreign leaders visited the Nanjing Museum.
The 2014 Summer Youth Olympic Games starts on Saturday night and will last about two weeks.