President visits training center on eve of Youth Olympics' opening day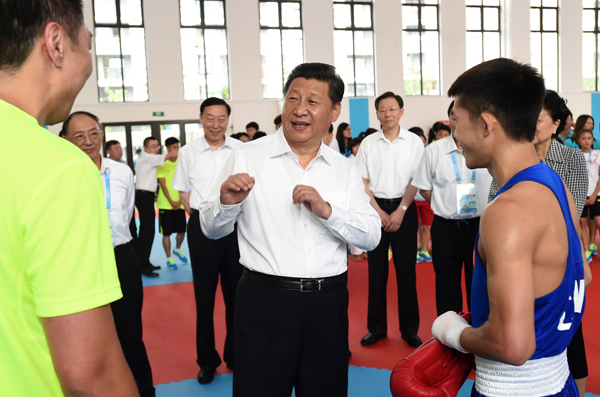 President Xi Jinping meets Chinese boxers as he tours the Youth Olympic Village in Nanjing, Jiangsu province, on Friday, the eve of the opening of the Second Youth Olympic Games. [Photo/Xinhua]
As he visited athletes practicing a variety of sports on Friday, President Xi Jinping made sure to give a boost to China's sports culture and youths' physical fitness on the eve of the second summer Youth Olympic Games' opening ceremony.
Xi said he hoped Chinese athletes' performance at the games will encourage more young people to take up sports and physical exercise.
Xi made the remarks while visiting a training center at the Youth Olympic Village in Nanjing, Jiangsu province. Dozens of Chinese athletes were practicing sports, including basketball, boxing, judo, wrestling and taekwondo at the center.
It was the second time Xi had visited a Chinese delegation before a major international sporting event this year. In February, the avid sports fan met more than 50 Chinese athletes and coaches before the Sochi Winter Olympic Games in Russia.
On Saturday evening, Xi is expected to attend the opening ceremony of the Youth Olympic Games alongside UN Secretary-General Ban Ki-moon and leaders from Burundi, Fiji, the Maldives, Montenegro, Singapore and Montenegro, among others.
Xi called on Chinese athletes to live up to the spirit of Olympic and Chinese sports, enjoy the games and learn from each other.
Xi said he was confident they would shine on the big stage, and that they are aware of the high honor and great responsibility that comes with participating in the Games.
Zhan Tianrui, a 16-year-old taekwondo practitioner, said she hoped to broaden her views during the event as well as meet and learn from friends from around the world.
Mao Zhenming, director of physical education and sports at Beijing Normal University, said he believes China will achieve good results at the burgeoning event.
"China, from the new leadership to local schools, has realized the importance of improving the young generation's physical fitness. The key now is to how to accomplish the task in an effective manner," he said.
"The top leader's passion for sports also will boost public enthusiasm in taking exercise," Mao added.
During Friday's meeting, Xi commented on the performance of some Chinese boxers and posed in a boxing stance, saying he had also practiced boxing at a young age.
Observers said the games in Nanjing would benefit the joint bid by Beijing and Zhangjiakou in Hebei province to host the 2022 Winter Olympics.
More than 3,700 athletes between the ages of 15 and 18, and from 204 countries and regions, will take part in the summer Youth Olympic Games, the brainchild of former IOC president Jacques Rogge.
China will be represented from Saturday to Aug 28 by 123 athletes, the largest delegation out of all 204 countries and regions. The delegation will compete in 28 sports.
China ranked atop the gold medal list as well as the overall medals list at the games in Singapore in 2010.
zhaoshengnan@chinadaily.com.cn