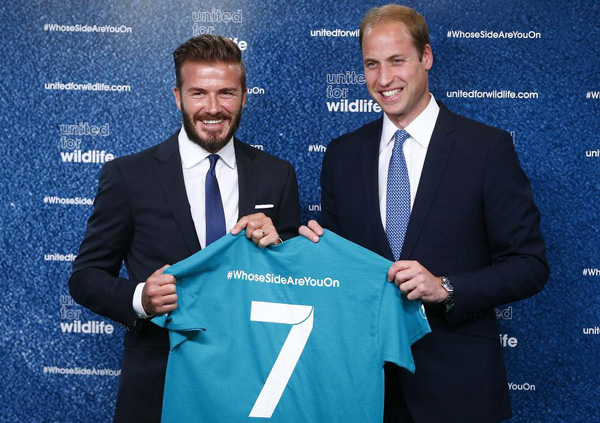 Britain's Prince William (R) and former England captain David Beckham hold up a T-shirt during an event to launch a wildlife conservation campaign at Google's headquarters in London, June 9, 2014. [Photo/Agencies]
In the documentary produced by CBS Corp's Showtime, the footballer mused on his retirement as he travels from Manaus to the Brazilian rainforest, camping out in hammocks and sleeping in shanty farm houses.
"Out of my comfort zone would be not showering for six or seven days," he said with a laugh.
Throughout the 90-minute film, Beckham often contemplates his celebrity status, wondering if he'll be recognized in remote areas they are traveling through.
"I bought it up so much because it hardly ever happened, and I think that's what surprised me about traveling to those places," he said. "I didn't think that I would be known once we got deep into the Amazon and the tribe, and obviously I was right because I wasn't and that was refreshing."
Family crops up regularly throughout the trip for Beckham, who has been married for 15 years and is a father to four young children. In the film, he reflects on the "selfish" choices he made during his career that took him away from his family, such as playing on loan for AC Milan while he was with LA Galaxy, and whether he might come out of retirement.
"Any athlete that has ... played the game at the highest level for so many years, once you stop, there's always going to be a few moments where you feel you can come back," he said.
But the footballer said he's happy to be on the sidelines now, with most of his efforts currently going into establishing a soccer club in Miami, and being a dad.
And as for England's chances in the upcoming World Cup, Beckham thinks the team is facing a strong challenge in its first game with European rivals Italy in Group D, where England bowed to Balotelli goal, losing 2-1 in their first Brazil show.
"Italy is an experienced team and talented team, so it's going to be hard game and obviously any first game in a world cup is difficult but we've got a lot of young players," he said.
"The advantage of young players, they're not scared, so they will be going in and they'll be playing with the freedom that they should be playing with ... I think having young legs in there and having talented young kids that have played in the premiership is an exciting prospect."