Beckham soccer fund to help needy kids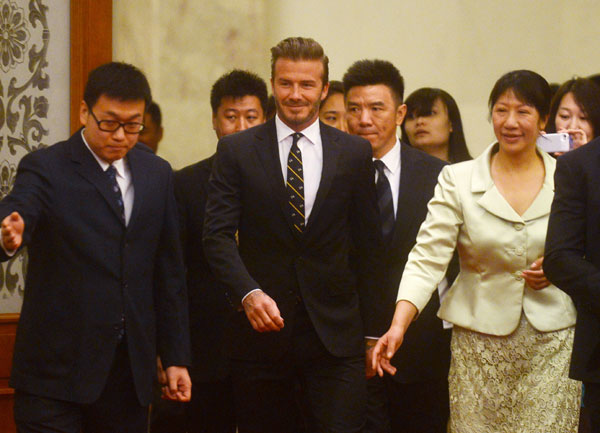 David Beckham attends the launch ceremony on Monday in Beijing for a fund he has set up with the China Soong Ching Ling Foundation to support youth soccer development, especially in the Xinjiang Uygur autonomous region. Li Muyi / for China Daily
Although David Beckham stepped down from his controversial role as Chinese Super League ambassador, his involvement with Chinese soccer continues at the grassroots level.
This time Beckham has set his eyes on China's less-developed western area, initiating a fund with the China Soong Ching Ling Foundation on Monday to develop youth soccer, especially in the Xinjiang Uygur autonomous region.
The former Manchester United star, who retired in May 2013, highlighted a personal draw and sense of responsibility in providing youth with adequate and safe facilities while speaking at the foundation's launch at the Great Hall of the People in Beijing on Monday.
"I have four beautiful children, so I know how important children are. They are our future. I know how important the youth system is and I did a lot of work (on youth training programs) in Europe and America. Hopefully I can do it here in China as well," he said.
"I will continue to be involved in the youth system here and will work with the foundation to give children opportunities to live a great life and play in facilities that they are very happy with."
The foundation is the first of its kind to be established by an international sports celebrity and a local NGO and has received its first donation of 3 million yuan ($481,800) from Beckham and his sponsor.
The fund will be used to buy school buses for the Xinjiang Soong Ching Ling Football School in Urumqi, the region's capital, and to build a soccer pitch for the Kashgar No 8 Primary School in southern Xinjiang, where children lack modern facilities.
Beckham's star power and personal concern will serve as a big motivation to raise awareness for youth soccer in the region, said Abulahet Amulism, director of the Administrative Center of Soccer in Xinjiang.
"I think the foundation's launch will cause more people to pay attention to Xinjiang soccer and the urgent need to improve the conditions here for children," he said.
As the most recognized face in soccer, Beckham was approached by the Chinese Football Association in hopes the British star would help improve Chinese soccer's tarnished international image after corruption scandals.
Beckham accepted the one-year contract to be ambassador of the CSL and CFA's youth program in February 2013 and toured the country twice last year to visit local schools and clubs in six different cities, including Beijing, Shanghai and Nanjing, to promote the game.
However, the 38-year-old's tie with Chinese soccer sparked speculations among global media that the superstar just wanted to win over a bigger commercial market.
Still, Beckham stressed that his cooperation with CFA was purely about inspiring more youngsters to kick off their soccer dreams.
The soccer star enjoys huge popularity in China proven by screaming fans and media mobs everywhere he appeared.
During his visit to Shanghai's Tongji University in June 2013, five people were injured in a stampede when thousands of fans rushed on the campus to get a glimpse of him.
Zhang Jian, vice-president of CFA, expects more good things are to come from Beckham's involvement with China.
"Since taking the ambassador role, Mr Beckham has built an indissoluble bond with Chinese soccer, and we hope the tie will further boost the game in China in the future," said Zhang.
sunxiaochen@chinadaily.com.cn