Star defender eyes 2022 World Cup and a career in European league
Editor's note: Soccer is the world's No 1 sport, and China has its own aims for the game. President Xi Jinping has spoken about his soccer dream: China reaching the World Cup, China hosting the Cup and, ultimately, China winning the coveted trophy. However, the nation still lags far behind in the soccer world. The 2014 Brazil World Cup is just around the corner and we have selected 11 key figures from around the country to tell us about their soccer dreams. The interviews will be on RTHK Putonghua Channel at 4 pm on Sundays through June 8.
Evergrande has been front and center of Chinese soccer over the past three years; especially since winning last year's Asian Champions League trophy.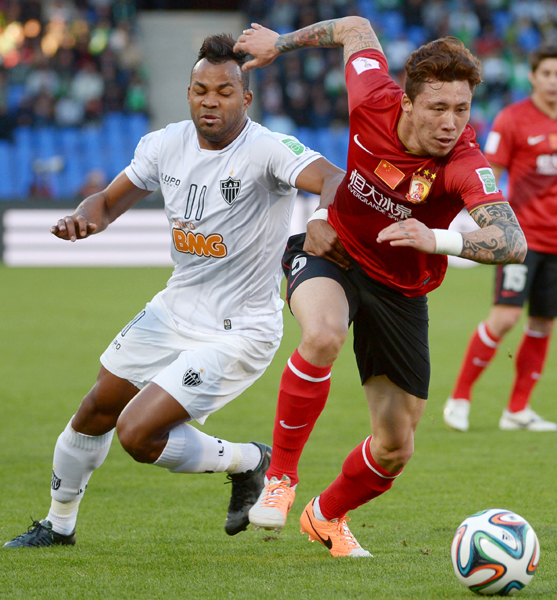 Zhang Linpeng breaks away from Brazil's Atletico Mineiro forward Luiz Fernando Pereira da Silva during their 2013 FIFA Club World Cup match in Marrakesh, Morocco, last December. Fadel Senna / Agence France-Presse
Many attribute Evergrande's success to its foreign legion, as the South American trio of Dario Conca, Elkeson and Muriqui were prolific scorers throughout the ACL. But those who look a little deeper see how much the Chinese members of the side have contributed, and Zhang Linpeng, the team's rightback, has been among the most outstanding.
Three Chinese Super League titles, one Chinese FA Cup, one Chinese Super Cup and an ACL championship have marked Evergrande's success and Zhang's three years in Guangzhou. The "grand slam" has made many people question the team's motivation this year, especially as players like Zhang, 24, seem to have won titles too early and too easily.
But he doesn't feel that way at all.
"We are still in the honeymoon," Zhang said. "Not only me; all my teammates have expressed their gratitude towards the team's atmosphere on many private occasions. The most important thing is that we have no selfish ideas and aim at only one goal - to win each game."
Adding to the skepticism, Evergrande cut the team's match bonus this season, which is seen as a major step away from its "high input, high output" strategy. But it's still steaming ahead in the new season.
"For soccer players, money and glory are equally important. I care more about the latter," Zhang said. "I feel lucky to have won those titles early in my career."
Zhang has had a great view of Evergrande's journey to the top of Asian soccer and has seen a thorough change in the side during those three years.
"We are now much more confident when we step on the pitch," Zhang said. "The championships have continually pumped us up with a champion's temperament, and that has kept us going."
Manager Marcello Lippi is another reason, Zhang said. To be a king, one has to behave like a king - and that's what the legendary Italian coach has taught the team.

"Lippi prepares the team as champions do, and he reacts more quickly to changes in the games," Zhang said. "In a word, he manipulates the game better.
"We were one goal behind the Japanese team Kashiwa Reysol in the first half of the semifinal of last year's ACL. In the locker room, we were showing a bit of self-doubt," Zhang said.
"But Lippi stepped up and calmly announced his belief in the team: 'Don't be frustrated; you have the competence to win the match and score a lot of goals. Remember, not just draw - we can win!"
And that game's result is written in Evergrande's history book: four second-half goals en route to a 4-1 victory.
Still, some things have not changed.
"Since the team was established, everyone from management to the players has consistently desired championships," Zhang said.
"Off the pitch, my teammates always talk about strategies and soccer techniques, very pure and simple. I really enjoy the atmosphere.
"When we came back from the Club World Cup, especially after games against Bayern Munich and Atletico Mineiro, we felt we still had so much to improve, but we also felt we had the potential.
"That experience just made us want to fight for more."
At Evergrande's daily training sessions , veterans like Zheng Zhi and Sun Xiang work as hard as the youngsters.
"Our training sessions are much more intense than a regular CSL game," Zhang said. "Everyone strives for the ball just to realize our next goal: win again in the CSL and ACL, and make new breakthroughs in international games."
Zhang also has a long-term personal dream: to play in Europe.
That opportunity might not be all that far away, thanks to his success at Evergrande - but he also understands adapting to different languages and cultures will provide major challenges.
"I won't go overseas for the sake of going overseas," Zhang said, "I will wait for the right time and join a suitable team where I can play as many games as possible."
Zhang's name has already been linked with several top teams in Italy's Serie A and Germany's Bundesliga. Some media have even touted top German club Hamburg as a potential destination. But Zhang said he remains in the dark about possible European suitors.
"I only got to know about some of those rumors from my wife after she read the papers," he said with a smile.
"At the moment, all I am thinking of is how to help Evergrande move forward. At least for this year I will stay at Guangzhou."
Many people question why he would be willing to leave Evergrande to play abroad as it could mean a big salary cut.
"If I am given the chance to play in the top European leagues, I will definitely take it, even if the team offers me no money. I am ready to sacrifice my income to let the fans know a new generation of Chinese players can compete at the world-class level. That is my way of making a contribution to Chinese soccer."
As a regular national team member, Zhang is obviously not satisfied with its recent performances. After the squad dropped out early in the hunt for the 2014 World Cup, he became more realistic about the future.
"I don't even dream about 2018 because the gap between us and Asia's leading teams is truly big. I would rather target 2022. Then I will be 33, but I hope I can be a mature defender, leading the team just like Fan Zhiyi in 2002 and Li Weifeng in 2008," he said.
"But all the people in the industry have to work together to achieve the goal."
In response to the debate about how the national team can benefit from Evergrande's success, Zhang answered without hesitation.
"Simplify everything. That is no doubt the most important thing.
"At Evergrande, people focus on carrying out their own duties.
"The chairman concentrates on managing the team, buying players and paying salaries. The head coach builds up the team according to his own vision; and we players only need to worry about training and matches, thus we can give 100 percent on the pitch.
"No one interferes in other people's jobs. That creates a very healthy environment for the team to grow."
Zhang has had some unpleasant experiences with the national team and is not afraid to speak about them.
"For example, before the Asian Cup qualifier against Saudi Arabia, we spent three hours on the match-day morning having a pre-match meeting," he said.
"From the top leader to the head coach, everyone delivered a speech. Many had nothing to do with soccer. To be honest, it affected the players' form. We spent too much time on things not related to soccer."
"It should be more simple and professional."
Zhang was not among the most talented players on his former team, Shanghai East Asia, which is known as the "Chinese Ajax", but he is now among the nation's most successful. He has earned a well-deserved reputation for his hard work on the pitch.
On his body are two eye-catching tattoos.One reads "Hard work pays off" and the other says, "Where there's a will, there's a way".
His story has been written with blood, sweat and toil, and he is planning a new chapter.
"This year, I will fight with my teammates to win more championships," Zhang said. "And I will work harder to better prepare for my dream."
luisliu@chinadailyhk.com
Related stories on Hao Haidong: Striking hard against the system
Related stories on Li Weifeng: High price of professionalism
Related stories on Fan Zhiyi: The voice of experience