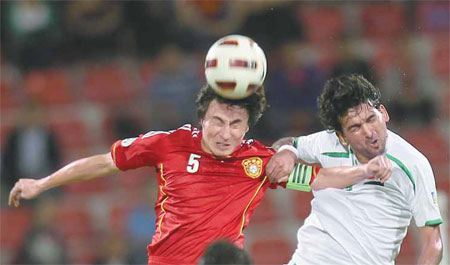 Li Weifeng fights for the ball with Iraq's Nashat Akram during their 2014 World Cup third-round Asian qualifying match in Doha in 2011. Mohammed Dabbou / Reuters
Li Weifeng's long journey to soccer greatness has been a roller-coaster ride
Editor's note: Soccer is the world's No 1 sport, and China has its own aims for the game. President Xi Jinping has spoken about his soccer dream: China reaching the World Cup, China hosting the Cup and, ultimately, China winning the coveted trophy. However, the nation still lags far behind in the soccer world. The 2014 Brazil World Cup is just around the corner and we have selected 11 key figures from around the country to tell us about their soccer dreams. The interviews will be on RTHK Putonghua Channel at 4 pm on Sundays through June 8.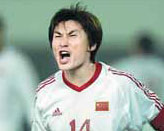 When will China next make the World Cup?
Why is Chinese soccer lagging?
Which team will you be looking at closely during the World Cup?
There is only one player in
Chinese soccer
history who has played in both the World Cup and the Olympics.
He has also taken part in nearly every major tournament - in different age groups - with 112 national team appearances and has left his footprints on English Premier League pitches.
Many fans and pundits regard Li Weifeng as China's greatest player, and he is grateful for that high praise. Now 36, he shows no signs of slowing down as he represents first division team Tianjin Teda.
"I feel lucky because almost every coach I met during my career actually liked me, so I made those teams." Li said.
But looking back, Li admits his career has been a roller coaster and that it was "not easy" for him to stay in the game for so long.
Comparing the two major events of his career, Li believes China had a better chance at the 2008 Beijing Olympics than at the South Korea-Japan World Cup in 2002.
"Stepping onto the World Cup pitch was so amazing, but the players failed to perform on the sport's biggest stage," he said.
"Our moves were practiced again and again, but we really struggled to show our best in the games.
"I was not nervous at all, trust me, but maybe it was just because of the charm of the World Cup."
China was both lucky and unlucky to play in the group stage with eventual champion Brazil and the team that ultimately finished third, Turkey.
After the three group games, Li's view of the game changed.
"Back in 2002, to be frank, we were ignorant of world soccer," Li said. "Within the team, Bora (head coach Bora Milutinovic) was the only one who knew what top-class international soccer was like. He saved the team from lots of possible twists and turns."
Li saw the squad progressively improve during those three games and was confident it was on course for a bright future.
However, Bora was dismissed after the team returned from South Korea - a move that still baffles him.
"We had one of the world's most experienced coaches, how come we sacked him?" Li said shaking his head. "Maybe the leaders had grander tastes."
Li was just as disappointed when the story repeated itself in 2008 when then Olympic team coach Ratomir Dujkovic was fired just three weeks before the event after his team failed to qualify for the 2010 World Cup. The Serbian was head coach of China's Olympic team and the national squad.
"We were defeated by ourselves," Li said. "Although Brazil was in the (Olympic) group, if everything went smoothly, we still might have had a chance to get points from the games against New Zealand and Belgium."
The renowned "bad-tempered" defender didn't shy away from the cameras back then.
"I said at a pre-game media conference at the Olympics that soccer is to China what table tennis is to Brazil. That is the reality," Li said.
Li said that because he had already taken part in the one of the world's best leagues.
After the 2002 World Cup, he signed with Everton of the English Premier League - but that deal is now regarded as one of the worst made by David Moyes, now manager of Manchester United.
Restricted by a lumbar injury, Li was back in China after just one season.
He still believes the experience was "successful and valuable" as it taught him how to be a professional player.
"Without things learned in England, I would not still be playing in China's top league," Li said.
"When I first arrived at Everton the team's nutritionist gave me a list of what to eat and what I could not eat. The detailed regulations said fried food and filling foods were forbidden in the evenings. And no carbonated beverages were allowed.
"That was when I started to realize what a professional soccer player really needs. Fortunately, it was not too late."
After returning from England, Li reached another professional peak. In 2004 he led Shenzhen to the Chinese Super League championship. The next year, the team fought its way into the semifinals of the Asian Champions League and he was hailed as a hero in the city.
However, his fiery temper and habit of collecting red cards became a hot topic among fans, especially when he was embroiled in a controversy over being billed as China's qiu ba (soccer bully). He was kicked off the national team as officials tried to give the side a new look.
Misery loves company and, soon after his transfer to Wuhan, Li was suspended for eight games after a flagrant foul. The punishment famously led to Wuhan quitting the CSL. Li felt lost and abandoned and, at 31, he started to seriously think about his future.
"Shall I continue, or just go away from soccer," Li recalled. "I was really not sure."
It was then that his "godfather", Cha Bum-kun, head coach of the then Shenzhen Ping An Football Club, invited him to play for Suwon Samsung Bluewings in the K-League. The Korean encouraged him to try his luck in a whole new environment.
"I was really not sure whether I should take the risk," Li said. "I was already in my 30s; for a soccer player at that age it is difficult to adapt to a new environment.
"Coach Cha was also taking a risk. If I could not give a good performance, the media would definitely put the word 'nepotism' in the headline, especially during a time when Chinese soccer was filled with match fixing and under-the-table deals."
Li was not highly regarded when he joined the team, but a year later, as a regular starting defender, he lifted the Korea Cup and was a nominee for Asia Player of the Year.
The fans who initially declined to accept him started chanting "Go Li Weifeng!" in Mandarin.
When he returned to the club after the winter break, Suwon management gave him a new contract and a pay increase.
"I was happy because I had proven myself again, and I got the chance to celebrate the championship with our national flag on my shoulder," said Li.
During the Korean years, he got booked fewer times. He attributes that to the different habits of Chinese and Korean players.
"In China I was often the only player fighting for every chance to get the ball, so many times I had no choice but to foul to stop attacks. I would become anxious and make mistakes," Li said.
"However, all the players in the K-League were fighting like I always did. I didn't have to worry if I couldn't stop the ball because my teammates would definitely back me up.
"I want to thank Korean soccer for saving my career and helping me recapture my love and desire for the game."
Today, apart from playing, Li wants to set an example for the young players in the CSL.
"The young players have no excuse to not work hard when they see old players like me fighting every minute of the game," Li said.
But, most importantly, he wants to show his six-year-old daughter how good and devoted her father is to his job.
"I see it as a key part of her education - how a father can influence his daughter is beyond imagination."
This year will see the World Cup in Brazil, the place where his soccer odyssey began as a member of China's elite youth squad.
Li said he has plans in place to go to Brazil and watch some of the games and meet old friends.
Some media have also contacted him to write columns and commentate during the tournament.
"Soccer is my life," Li said, "For me, Brazil is the best place to watch the World Cup, because it is where my dream began."
luisliu@chinadailyhk.com
Stories on Hao Haidong: Striking hard against the system
Stories on Fan Zhiyi: The voice of experience