Teen golfer shoots 73 on 1st day at Masters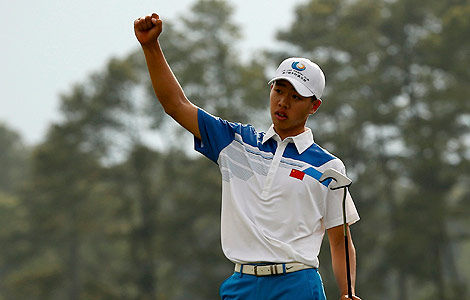 Fourteen-year-old amateur Guan Tianlang of China celebrates sinking a birdie putt on the 18th green during first round play in the 2013 Masters golf tournament at the Augusta National Golf Club in Augusta, Georgia, April 11, 2013. [Photo/Agencies]
The youngest player in US Masters history, Guan Tianlang of China, played an impressive opening round of one-over 73 at Augusta National on Thursday.
He made a birdie putt from off the green at the 18th hole and added a fist pump and tip of the hat to boot, completing his historic round in style.
He trails first-round leaders Sergio Garcia of Spain and Marc Leishman of Australia by seven shots after their 6-under 66s and sits in a tie for 46th place - in the middle of the pack of the most distinguished professionals from around the globe.
"He played a beautiful round of golf," Guan's playing partner and two-time US Masters champion Ben Crenshaw said. "He stays well within himself, he's very confident, and obviously has beautiful hands."
The hands Crenshaw referred to enabled Guan to chip the ball close to the flag on many occasions, saving vital shots down the stretch of his first round.
Throughout the day the 14-year-old showed a maturity far beyond his years.
Asked after the round if Thursday was the most amazing experience of his life, Guan agreed.
"It's like a dream come true," Guan said, "To play some good golf today just feels great."
He also had to deal with nerves at the first hole after he watched his playing partners hit their tee shots well left.
"I feel great to play the first round here," Guan said. "And just a little bit nervous on the first tee, but I hit a great tee shot on it and after that I just felt comfortable."
He went on to hit his first three fairways of the day, culminating with a birdie at the third hole.
"He stuck right to his plan the whole day," Crenshaw said. "(He) didn't get rattled, really wonderful to see."
On the short 350-yard par-4 third, there was a moment that easily could have shaken the youngster. As Guan lined up his birdie putt, Henrik Stenson's drive from back on the tee hit and rolled through the green on which Guan stood. Matteo Manessero, the third member of Guan's group, acknowledged the players on the distant tee box with a thumbs up and the veteran Crenshaw did as well. Guan never lost his focus or even seemed to notice the other ball and promptly sank the first birdie of his US Masters from 20 feet. Strong applause erupted from the gallery.
Guan's focus was evident throughout his round, which included three more birdies, and came s no surprise to John Ho. Ho is the vice-president of Lion Lake Country Club and Sheraton Hotel in Qingyuan where Guan's father, Guan Hanwen, takes his son to practice seven days a week. Ho says they usually stay from mid-afternoon until dark.
"He practices hard and smart," Ho said. "Not like a kid, like a very mature person. When he got the invitation to the Masters, we cut the practice green down especially for him. We made it faster and closer to Masters conditions."
Guan took on the Masters conditions on Thursday and now leads the other four amateurs in the field. Reigning US Amateur champion Steven Fox is next best at 4-over par, three shots behind Guan.
Even current co-leader Garcia was impressed by what Guan was able to do on Thursday.
"It's very impressive," Garcia said. "There's no doubt that the conditions were pretty good, but you still have to do it."
Garcia tasted amateur success when he won the British Amateur in 1998 and was a semifinalist at the 1998 US Amateur as an 18-year-old.
"I think 1-over was a good score for him," Manessero said. "You can see he can do that (Friday) again without any problem. I mean, I think it shows good potential."
The magical week at Augusta continues on Friday for Guan when he tees off in his second round with Manessero (3-over) and Crenshaw (8-over) and with making the cut firmly in his sights.
Most Popular
Highlights
What's Hot