New CBA head Yao says reform is priority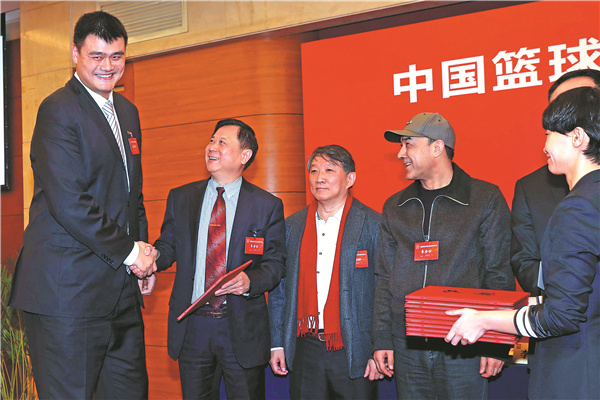 Newly appointed chairman of the Chinese Basketball Association Yao Ming (left) gives a certificate of appointment to Li Jinsheng, one of the nine vice-chairmen elected to assist him, at the CBA's ninth national congress on Thursday. [Photo by MENG YONGMIN/XINHUA]
Yao Ming, the former NBA star and newly appointed chairman of the Chinese Basketball Association, has put reforming the domestic game's management at the top of his agenda.
China's only NBA Hall of Famer was chosen to head the country's basketball governing body by unanimous vote at the CBA's ninth national congress on Thursday. He is the association's first chief drawn from outside government ranks.
The backbone of Chinese basketball during his 14-year athletic career, Yao is tasked with pushing reform of every aspect of the game, including professional league operation, youth cultivation and national team development.
"The most urgent need now is to reform the CBA league's management and operation, so we can guide the league to ... attract more investment and attention, while enhancing its influence," Yao said on Thursday.
Before the reshuffle, the CBA had been run by officials promoted from within government ranks who retained all major decision-making powers, from athletic operation to commercial development.
Yao, 36, who in 2009 bought his hometown club, the Shanghai Sharks, said the reformed CBA will provide better operation and services based on the interests of all clubs.
"Our attitude will be helping every participant benefit from the league operation so we can improve as a whole to boost the game's development at every level," he said.
"My personal expectation is to help the national team regain its form at the 2019 FIBA World Cup and 2020 Tokyo Olympics."
Hampered by a lack of domestic talent after the retirement of Yao, the Chinese national team lost all five group matches to finish 12th, its worst result, at the 2016 Rio Olympics.
Yao, who began his career with the Sharks in 1997, was selected as the first overall pick by the Houston Rockets in the 2002 NBA draft after leading Shanghai to the CBA championship.
He also led Team China to eighth place, its best showing, at the 2008 Beijing Olympics, while being voted an NBA All-Star eight times before retiring in 2011 due to a foot injury.
Yao said on Thursday that to avoid any conflict of interest, he will sell all his shares in the Sharks before the start of the 2017-18 CBA season.
The CBA also elected nine vice-chairmen to assist Yao, including Gong Luming, a former national team coach, and Liu Jingyuan, president of the CBA club Liaoning Flying Leopards.
Li Yingchuan, assistant director of the General Administration of Sport, the country's top sports body, said Yao's appointment as chairman will be another major step forward in the effort to separate sports associations from government control.
Tan Jianxiang, a sports sociologist at South China Normal University, said, "The reform will make the CBA a full-fledged NGO so it can run independently with transparency."
Most Popular
Highlights
What's Hot