China beat South Korea in men's 5,000m short track relay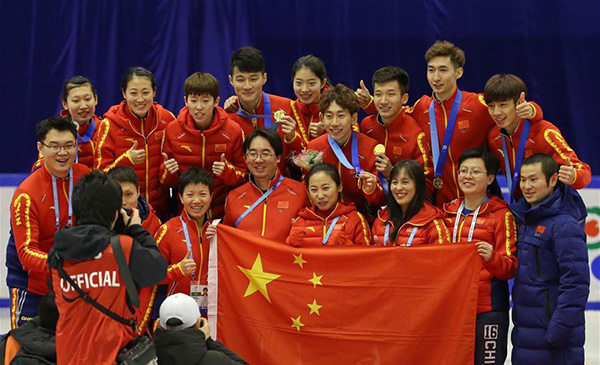 China's short track speed skating team pose for a group photo after the men's 5000m relay of short track speed skating competition at the 2017 Sapporo Asian Winter Games in Sapporo, Japan, Feb 22, 2017. [Photo/Xinhua]
SAPPORO, Japan - China beat arch rival South Korea to win the men's 5,000m relay at the short track speed skating competition of the Asian Games on Wednesday.
The Chinese foursome - Wu Dajing, Ren Ziwei, Han Tianyu and Xu Hongzhi had been trading lead with South Korea and Japan before storming home first ahead of South Korea to take China's third short track gold in Sapporo.
Japan took the bronze medal.
South Korean skaters were unbeatable in the other three events as they wrapped up their short track campaign with five golds out of eight available.
Shim Suk-hee won the women's 1,000m gold over teammate Choi Min-jeong, and then the two led the country to the 3,000m relay gold medal.
South Koreans Seo Yi-ra and Sin Da-woon finished 1-2 in the men's 1,000m final.
Most Popular
Highlights
What's Hot