Sapporo Asiad day 2 roundup: China dominates 500m short track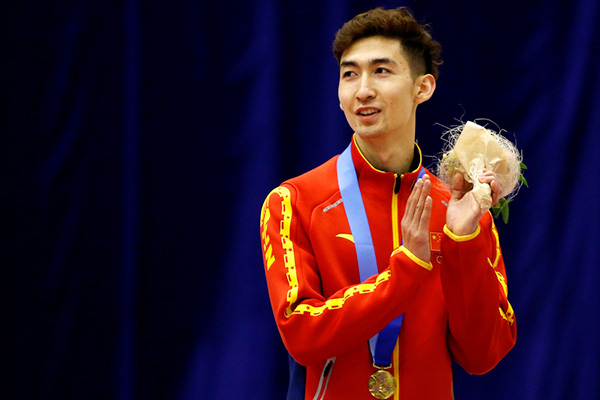 Men's 500m short track gold medalist Wu Dajing at a medal ceremony in Sapporo, Japan on Feb 21, 2017. [Photo/VCG]
SAPPORO, Japan - China dominated in the 500m short track speed skating at the Asian Winter Games here on Tuesday, while host Japan topped the medal tally by sweeping four speed skating golds.
China claimed the two gold medals up for grabs in short track speed skating for the day.
Zang Yize, 17, winner of the Youth Winter Olympic Games in 2016, clocked in 43.911 seconds to take the title in a dramatic race with China's world champion Fan Kexin and Shim Suk Hee of South Korea both disqualified after getting tangled up in the final lap.
"I think she (Fan) was too eager to win the race, and anything could happen in the short track speed race," said Zang, who just won the gold at the Winter Universiade earlier this month in Almaty, Kazakhstan.
"I am happy to win the gold as this is the fist time I competed in the Asian Winter Games. I will train much harder after the Asiad," added Zang, who already sets her eyes on the 2018 Winter Olympic Games.
Ito Ayuko of Japan snatched the silver in 44.236, while the bronze went to the Final B winner Choi Minjeong of South Korea in 44.819 as there is no third place finisher in the Final A.
Wu Dajing, a silver medalist in Sochi 2014, timed 40.764 to take the men's title, beating Seo Yira of South Korea to second place in 40.842.
Another South Korean Park Seyeong, who just won the 1,500m race on Monday, was third in 41.182.
Japan collected five gold medals on the day, four from speed skating.
Star skater Nao Kodaira added a 500m gold to her 1,000m win, clocking 37.39 seconds, beating two-time Olympic champion Lee Sang-Hwa from South Korea to second place by 0.31 seconds. Japanese Go Arisa was third in 37.73.
Miho Takagi also won her second gold at the Asiad by taking the women's 1,500m.
Takagi, who already had the 3,000m gold and 1,000m silver to her belt, triumphed in 1:56.07, while her teammate Misaki Oshigiri came second in 1:58.13. Nana Takagi finished third in 1:59.45 with her fellow Japanese Ayano Sato fourth in 1:59.77.
China's first ever Olympic speed skating champion Zhang Hong, who clocked 2:00.14, took a lucky bronze as the Olympic Council of Asia doesn't allow a clean sweep of the podium by the same delegation.
"This was the event where we had the biggest chance of sweeping the top four spots, and being able to do that was very significant for us as a Japan national team," said Nana Takagi.
Takuro Oda won the men's 1,000m in 1:09.33 before the Japanese dominated the women's team pursuit in 3:00.08, beating South Korea by 6.67 seconds into second place.
China got the bronze in 3:10.23, 7.29 seconds ahead of the only other participating team - Kazakhstan.
The host also won a gold in the women's 10km cross-country free through Yuki Kobayashi, who finished in 30:24.6, 24.4 seconds faster than 35-year-old defending champion Lee Chae-won from South Korea.
The bronze went to Yelena Kolomina of Kazakhstan. China's veteran Li Hongxue only placed sixth.
Kazakhstan also pocketed a gold in cross-country skiing as Rinat Mukhin, 23, claimed the men's 15km free title in 41:25.3.
Japan's Naoto Baba, only 4.5 seconds slower, settled for the silver, while another Japanese Akira Lenting took the bronze in 41:33.3. China was seventh.
China did a good job in curling in the day, as its men's team defeated South Korea 8-3, and the women's team beat Japan 8-5.
Also on Tuesday, the ski jumping men normal hill individual events were rescheduled for Wednesday due to inclement weather.
Most Popular
Highlights
What's Hot